Transfer from Gatwick Airport to Maidstone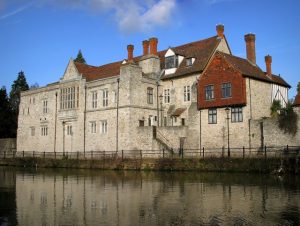 Maidstone is a town located in the heart of the 'Garden of England', with beautiful countryside sceneries of fruit orchards, towns and villages with an abundancy of ancient structures and reminiscences. Midway between Dover and London, supported by motorways M25 and M2, Maidstone is the perfect stopping place to discover. Once a market town, Maidstone has remained even until today a significant commerce area. It continues to be home to open markets at Lockmeadow on Tuesday and Saturday. Even if the town already holds a great number of important retailers, one more shopping center is on its way to be constructed. When complete it should make Maidstone the key spot to shop in the South East. Car owners are suggested to use the Park and Ride bus that has been efficiently functioning since 1980. In addition to shops, restaurants vary from classic to themed pubs, which you can pay a visit to until late at night.
If you're looking to evening entertainment you can check the multiscreen cinema, ten pin bowling, night clubs and theatre. Located on the River Medway, Maidstone continues to expose its ancient period with a great number ancient constructions like the Archbishops Palace, which has been there since the 14th century, or the Tyrwhitt-Drakes museum of carriages. An illustration of 17th century pargetting can be noticed on a construction in Bank Street.
Not far from Maidstone a great number of of villages and attractions can be admired such as Leeds Castle, which is considered to be the most beautiful in the world and Kent's Cobtree museum.
Transfer from London Gatwick Airport to Maidstone by Coach:
There are several coach services that serve a Gatwick Airport to Maidstone transfer. National Express coach operates various trips to this town at a price starting from 18.70 GBP. The duration of the journey will be somewhere arround 4 hours and 30 minutes.
Transfer from London Gatwick Airport to Maidstone by Rail:
You can get easy access from London to the center of Maidstone through the East and West Railway Stations located in the town. The East Station is mostly for London and Ashford services while the West one is used for Gatwick and Strood services. When ariving at Maidstone West, to get to the town center, you must go right towards the station exit, walk down the hill, and cross the bridge into the High Street.
Transfer from London Gatwick Airport to Maidstone by Car:
Maidstone is located south of M20, which links with London, Ashford & Folkestone through the A20. The distance from London Gatwick Airport to Maidstone is of appromixately 42 miles. You can to this town by car by renting a vehicle at Gatwick Airport or taking a taxi transfer to Maidstone.
Transfer from London Gatwick Airport to Maidstone by Taxi Transfer:
A Taxi Transfer from London Gatwick Airport to Maidstone with 247 Airport Transfer will cost around 71 GBP for a saloon car. The airport transfer from London Gatwick to Maidstone will take approximately 1 hour.
Image Wikipedia.