Reliable Company

Experienced drivers on time

Dedicated personnel

Professional service

Drivers CRB checked

92% Customer satisfaction

Values for Money

Prices start from 40£

30 minutes free waiting time for airport pick-ups

No extra charges for flight delays

50% cheaper than black cabs

Low fares for airport transfers

Benefits

Free Wi-Fi in the car

Free flight monitoring

Meet and greet service included in the price

Infant/Child/Booster seat on demand

Online and Cash Payment

247 Coach Hire

Coach Hire Service

044(0)2031500522
Mission, Vision and Values
Our mission, vision and values revolve around one particular aspect – the market.
We nurture the relationship with our clients and not only do we pay attention to their problems and complaints, but we also try to anticipate the needs and desires, in order to provide better, faster and innovative solutions.
DRIVER OF THE MONTH
Our drivers are your best choice!
On the airport and in the street, our drivers will be easy to spot and you will definitely recognize them for their elegant outfit and their clean, shining cars.
Even if all of them are licensed by the PCO (Public Carriage Office), which is one of the greatest certifications a London minicab driver can receive, we tend to believe that their true qualities lie within their heart and character.
Our drivers also track flights and monitor traffic so that you can be certain that they will be at the airport on time, even if your plane arrives earlier or gets delayed.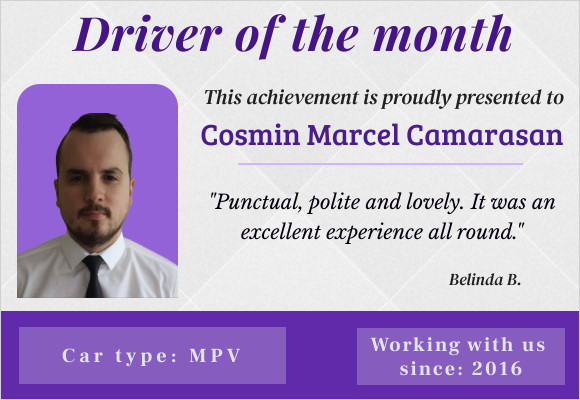 Latest Reviews from our Clients

CERTIFICATES AND ACCREDITATIONS
Our company respects all British policies, including the care for the environment and for a quality management system. Two important accreditations that prove this are ISO 9001 and ISO 14001.
We are part of the London Private Hire Car Association – LPHCA which awarded us a 5 Star Grading for our excellent customer service.
Members of the Confederation of Passenger Transport UK – CPT a lead representative for coach and bus industry in the UK.
Our drivers and operators have been trained by Gram Training and received the NVQ Certificate, Level 2 in Road Passenger Vehicle Driving and Transport
Operation and by Hamilton Mercer and received a Certificate in Exceptional Customer Service.
247 Airport Transfer is registered for Data Protection Act 1998 with Information Commissioner's Office, the UK's independent authority set up to uphold information rights in the public interest, promoting openness by public bodies and data privacy for individuals. Registration Number: Z3112701. For more information https://ico.org.uk/
We are a proud member of MiDAS which is the Minibus Driver Awareness Scheme and is administered nationally by CTAUK. It is a membership-based scheme that has been designed to enhance minibus driving standards and promote the safer operation of minibuses. For more information https://ctauk.org/training/midas/
247 Airport Transport provides care and assistance to passengers traveling by road due to PATS training which is available throughout the UK. For more information https://ctauk.org/training/pats/