Transfer from Rotherhithe (SE16) to Heathrow Airport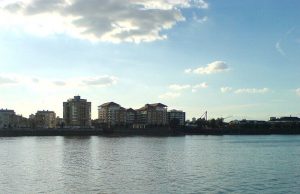 The 'Bermondsey Village' is a part of the Rotherhithe district, centered on Bermondsey Street which has known an increase in artistic and business activities in the past years. Bermondsey Street is known for its fashionable pubs such as The Garrison and Village East, shortly to be joined up with by The Hide Bar. The restaurant scene complete the Bermondsey Kitchen and the Delfina Studio Cafe. Small art galleries complete the inspiring picture while The Fashion and Textile Museum founded by Zandra Rhodes, with their unmistakable colors remain a beacon on Bermondsey Street.
One of the oldest buildings in the area is Berdmonsdey Abbey which was constructed in 1082. Some other buildings of history can be found to the east of Tower Bridge, Bermondsey's 3½ miles of riverside waas covered with warehouses and wharves. The most popular of them is Butler's Wharf. They experienced critical damage in World War II bombing and became unnecessary in the 1960s right after the fall of the river trade.
Berdmondsey Street is the place voted as South London's coolest region in the annual Secret Address Book for its elegance and uniqueness provided by designer studios, distinctive local architecture, local food producers, community squares and owner-managed businesses. It is one of the fastest growing neighborhoods in London. All together apartaments, bars and museums and buildings of various designs form a distinctive location.
Transfer from London Heathrow Airport to Rotherhithe(SE16) by Rail:
To get transfer from Heathrow Airport to Rotherhithe by train you must first take a 46 minutes journey with the tube to Green Park Station. From Green Park Station you will have to take another tube to Canada Water Station, a trip which will last approximately 12 minutes. Other transport options include taking a taxi transfer either from Green Park Station or from Heathrow Airport to Rotherhithe.
Transfer from London Heathrow Airport to Rotherhithe(SE16) by Car:
A if you want to get from Heathrow Airport to Rotherhithe by car you must go on the M4 motorway. A distance of 24 miles separates Rotherhithe from Heathrow Airport.
Transfer from London Heathrow Airport to Rotherhithe(SE16) by Taxi Transfer:
A Taxi Transfer from London Heathrow Airport to Rotherhithe with 247 Airport Transfer will take approximately 1 hour and 10 minutes. The Heathrow Airport transfer to Rotherhithe will cost around 47 GBP for a saloon car.
Image:Wikipedia.