Transfer from Heathrow Airport to Newcastle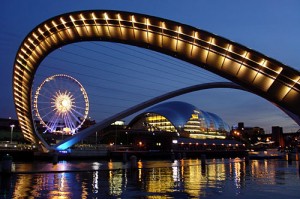 Newcastle upon Tyne, the former capital of the northernmost county in England, Northumberland, is a vibrant place, full of life. Shipbuilding and heavy industry have left this place many years ago, but locals have adapted quickly to new needs to build a the city a brand new image, more powerful and full of character. From Newcastle, the Northumbria coast stretches 112 km to the north, at the border with Scotland. This beautiful area with low cliffs and sandy bays could be as busy as Cornwall if the climate here would not have been so cold. Two of the most important landmarks in Newcastle are Warkworth Castle and Alnwick Garden.
Warkworth Castle
To the north, along the coast, the first place you'll get to when leaving Newcastle is Warkworth Castle. It was built between the XII and XIV centuries, and it is also the setting for Part I of Shakespeare's "Henry IV" play. After Warkworth castle comes Alnmouth, a beautiful coastal town with small red and gray roofs. Alnmouth is followed by Craster, where you can eat smoked herring and you can walk about 18 km along the coast to the ruins of Dunstanburgh Castle.
Alnwick Garden
The beautiful Alnwick Garden near Alnwick Castle comprises an amazing fountain, a play house, a maze and more other beautiful attractions. Bamburgh Castle frowns on a rock that is placed somewhere between the 28th rocks of Farne Islands. Embark on Seahouses and visit the islands to see seals, birds and monastic ruins at Inner Farne. After you pass the temporary road to Holy Island on the Beai, you reach Berwick-upon-Tweed, an ancient border town that was greatly disputed between England and Scotland.
Transfer from London Heathrow Airport to Newcastle by Rail:
In order to get a transfer from London Heathrow Airport to Newcastle by rail, you need to take the Heathrow Express Service to London Paddington in a journey that will last approximately 16 minutes. From Paddington Station you will be able to take the tube to King's Cross Station from where you will have to take another train to get to Newcastle. Other transport options include taking a taxi transfer from Paddington Station, King's Cross Station or Heathrow Airport to Newcastle .
Transfer from London Heathrow Airport to Newcastle by Car:
In order to get from Heathrow Airport to Newcastle by car, you have to take the M1 motorway followed by the A1(M) road. The distance between Heathrow Airport and Newcastle is of 284 miles.
Transfer from London Heathrow Airport to Newcastle by Taxi:
A Taxi Transfer from London Heathrow Airport to Newcastle with 247 Airport Transfer will take approximately 5 hours. The Heathrow Airport transfer to Newcastle will cost approximately 357 GBP for a saloon car.
Image Pinterest