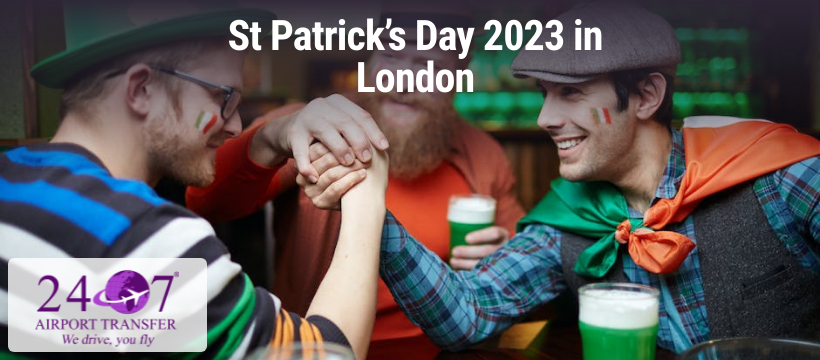 St. Patrick's Day is one of the most celebrated events around the world, and London is no exception. This annual celebration of Irish culture is a great opportunity for Londoners to experience the unique and vibrant Irish traditions that have influenced the city over the years. In 2023, London is preparing to celebrate St. Patrick's Day with a variety of events, ranging from live music and dance performances to parades and pub crawls.
St. Patrick's Day Parade: A Colorful Celebration in the Heart of London
One of the most anticipated events for St. Patrick's Day 2023 is the St. Patrick's Day Parade, which will be held in central London. The parade usually kicks off at Piccadilly, making its way through some of the most iconic landmarks of the city, including Trafalgar Square and Whitehall, before ending at the iconic Palace of Westminster. This year's parade promises to be even more spectacular, with floats, marching bands, and traditional Irish dancers taking to the streets. Spectators can also expect a flurry of green, as participants deck themselves out in the traditional Irish colors.
From Folk Music to Rock Bands: A Look at London's Irish Music Scene
For those who want to experience the Irish music and dance scene, there are plenty of events lined up across the city. The famous O2 Academy Brixton is set to host an exciting line-up of Irish musicians, with performances from traditional folk artists to contemporary rock bands. Irish dance enthusiasts can head to the Camden Centre, where the London Irish Centre is hosting a traditional ceili dance.
Pubs and Bars: Where to Experience St. Patrick's Day in a Laid-Back Setting
For those who want to enjoy the St. Patrick's Day festivities in a more laid-back setting, there are plenty of pubs and bars across the city that are offering special St. Patrick's Day menus and events. The famous Irish pub, O'Neill's in Soho, is set to host a live music session, where visitors can enjoy traditional Irish music while indulging in some of the pub's famous dishes, including Irish stew and Guinness pie. The Waxy O'Connor's in Leicester Square is another popular destination, with three floors of bars, each offering a unique St. Patrick's Day experience.
Celebrating Irish Heritage: The Irish Embassy and Irish Cultural Centre Events
London is also home to a thriving Irish community, and St. Patrick's Day is a great opportunity to celebrate this heritage. The Irish Embassy in London is hosting a variety of events, including a reception for the Irish community and a special mass at Westminster Cathedral. The Irish Cultural Centre in Hammersmith is also hosting a series of events, including art exhibitions, film screenings, and literary readings.
Overall, St. Patrick's Day 2023 promises to be a vibrant and exciting celebration of Irish culture in London. Whether you are looking for music, dance, food, or just a lively atmosphere, there is something for everyone. With events taking place across the city, visitors can explore the many different neighbourhoods of London and immerse themselves in the city's rich cultural heritage. So put on your green and head to London for a St. Patrick's Day celebration like no other.
Don't hesitate to use our taxi London services if you find yourself in need to arrive quickly at the St. Patrick's events!