Are you a committed and reliable person with a passion for ensuring the safety and well-being of children? Do you have a can-do attitude? Then we have a fantastic opportunity for you to make a positive impact as an Account Manager for SEN transport!
Position: Account Manager for SEN transport
Location: 32 Lumina Way, Enfield, EN1 1FS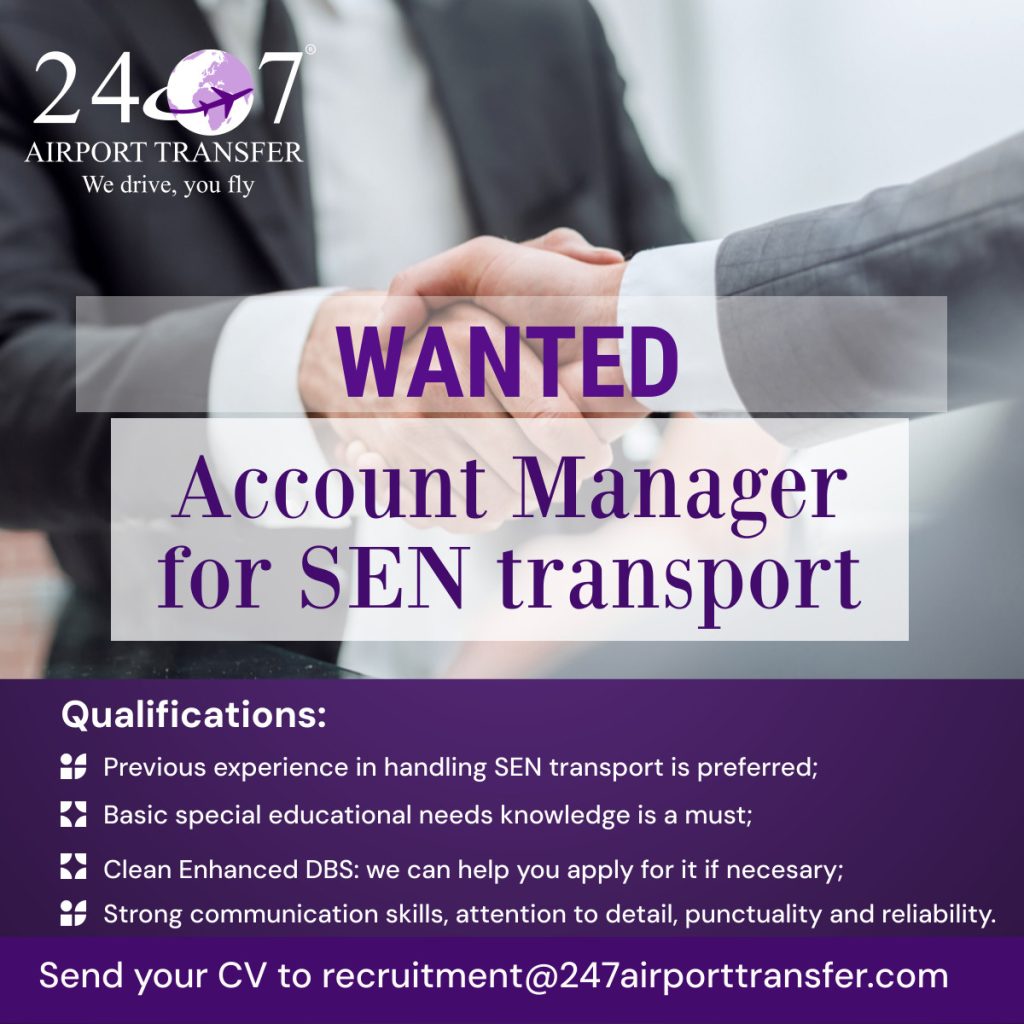 Company: 247 Airport Transfer
Job Type: Full time
𝐖𝐡𝐲 𝐂𝐡𝐨𝐨𝐬𝐞 𝐔𝐬?
Our mission is to constantly help improve the quality of special educational needs transport services in London. We dedicate our time and efforts with a well-defined purpose in mind – that of providing better services to customers, children and adults alike.
Our vision by 2033 is to lead the London Private Hire sector, setting benchmarks of excellence while enhancing the minicab experience for our esteemed customers and dedicated crews.
We are a company specialized in airport transfers and school routes in and around London. We have been on the market since 2010 and we provide services to travel agencies, tour operators, airlines, individuals and local authorities in the UK.
We transfer over 50.000 passengers to the airports and to/from schools every year and we work with over 8 local authorities in and around London.
We have 4 important Values guiding us to excellence. These Values are reflected in our decisions, in our responsibilities and in the way we do business:
Can do attitude – we put effort into everything
Reliability – we aim to deliver what we promise – courteous drivers, caring passenger assistants and safe journeys.
Politeness – be friendly and polite no matter the situation.
Innovation – we want to become a game changer in our industry
Our mission, vision and values revolve around one particular aspect – the customer. We nurture the relationship with our clients and not only do we pay attention to their problems and complaints, but we also try to anticipate their needs and desires, in order to provide better, faster and innovative solutions. Here at 247 Airport Transfer, we take what we do very seriously:
• Every error we make is a well-learned and cherished lesson.
• Every service we provide we pour our soul and effort into.
• Every decision we take is a step forward to achieving our vision which is to become a leader in the London Private Hire minibus sector of business.
𝐖𝐡𝐚𝐭 𝐲𝐨𝐮 𝐰𝐢𝐥𝐥 𝐛𝐞 𝐨𝐟𝐟𝐞𝐫𝐞𝐝:
✔ Meaningful Work – Contribute to the education and growth of young minds by coordinating safe transportation to and from school.
✔ Supportive Environment – Join a team that values your expertise and is dedicated to children's safety and well-being.
✔ Competitive Pay – Enjoy a competitive salary and perks for your commitment to our mission.
✔ Flexible Schedule – The position will be full time and the hours are flexible or fixed depending on your availability.
✔ Professional Development – Access training opportunities to enhance your knowledge and be better prepared to handle any situation.
✔ Community Impact – Be a part of fostering a sense of community by ensuring children reach school safely and on time.
𝐐𝐮𝐚𝐥𝐢𝐟𝐢𝐜𝐚𝐭𝐢𝐨𝐧𝐬:
☑ Previous experience in handling SEN transport is preferred;
☑Basic special educational needs knowledge is a must;
☑Clean Enhanced DBS: If you don't have an Enhanced DBS we can help you apply for it;
☑Strong communication skills;
☑Punctuality and reliability;
☑Attention to detail;
☑Ability to work in a fast-paced environment, thriving when doing both repetitive and on-the-spot work;
☑Two relevant professional references will be required from similar workplaces.
𝐑𝐞𝐬𝐩𝐨𝐧𝐬𝐢𝐛𝐢𝐥𝐢𝐭𝐢𝐞𝐬:
⚪ Nurture the relationship we have with a number of local authorities;
⚪ Supervising the smooth running of the local authority transport bookings for the current day and the next day;
⚪ Work closely with the Recruitment Department to fill in positions for drivers and passenger assistants for school runs;
⚪Management of a new school-run contract in the system when we receive the route confirmation;
⚪Adhere to company policies and procedures;
⚪Preparing the Key Performance indicators situations when requested by the councils;
⚪Attending contractor meetings with the local authorities;
⚪Managing compliance of staff members who work on school runs.
𝐏𝐫𝐢𝐳𝐞:
For those who may know such a candidate, we offer a Bonus of £300 after the candidate successfully goes through the 3-month probation period.
𝐇𝐨𝐰 𝐭𝐨 𝐀𝐩𝐩𝐥𝐲:
Ready to make a difference in young lives and become a vital part of our team? Apply by sending your CV and a brief cover letter highlighting your relevant experience to recruitment@247airporttransfer.com. Feel free to contact 07476310089 if you have any questions.
Don't miss this opportunity to combine your previous knowledge with a sense of fulfilment. Join us in providing safe and reliable transportation to the future generation!
Join 247 Airport Transfer in shaping a better tomorrow, one safe ride at a time.