Transfer from Heathrow Airport to Norwich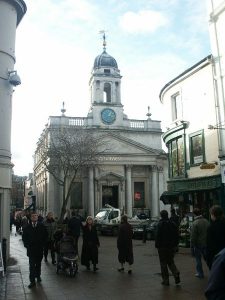 The town of Norwich is certainly a treasure to be admired for its impressive medieval architecture. This period is primary represented by Norwich cathedral dating from the eleventh century and also by the imposing 12 century castle which is now in use as a museum. Other important tourist attractions include Assembly Rooms (1776), the Octagon Chapel (1756) and St Helen's House (1752). Apart from these buildings, the city center is entirely a medieval work of art so a stroll through those places will certainly take you back in time. Another magnificent place there is the Norwich market, a very old place, built between the years 1071 – 1074. Today it is the largest open-air market in England.
On the other hand Norwich is home to gorgeous modern structures such as The Forum and The Sainsbury Centre for Visual Arts, great shopping centers, fascinating events and festivities, impressive landscapes, stunning parklands, outstanding arts and culture places and top class restaurants, bars and cafés.
Norwich's nightlife is also amazing and charming with partys going on almost continuously in "Tombland", "Prince of Wales Road" and around "Riverside"'s. The city of Norwich is also considered to be one of the best shopping locations in Britain and offers accessible shopping places where tourists can walk from one corner of the city to another.
Transport from London Heathrow Airport to Norwich by Coach:
One of the easiest ways to get to Norwich from London Heathrow Airport would be the National Express coach, which operates several direct from services from Heathrow to Norwich every 2 hours. There is a stop at Terminal 4. The journey time with the National Express Coach is around 4 hours.
Transport from London Heathrow Airport to Norwich by Rail:
There are many ways to get to Norwich by train. The best option is to take the mainline train runs from London Liverpool Street. To get to Liverpool Street Station you must first arrive at the Picadilly line (blue line), and change at Holborn. A journey from London Heathrow Airport to Liverpool Street Station will last about 1 hour.
Transport from London Heathrow Airport to Norwich by Car:
To get to Norwich by car you can choose from the important trunk roads close to the city which are: M11, A11, A12, A140 (from London, the south, the ferry ports and the Channel Tunnel) and the A14, A47, A1/M1 (from the north and west).
Transport from London Heathrow Airport to Norwich by Taxi Transfer:
A Taxi Transfer from London Heathrow Airport to Norwich with 247 Airport Transfer will cost around 185 GBP for a saloon car. The airport transfer from London Heathrow to Norwich will take approximately 3 hours.
Image: Google.