Transfer from Merton (SW19) to Heathrow Airport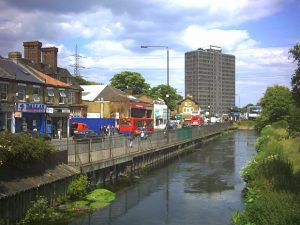 Today we'll take a leap close to the edge of London, in the South Western part, to visit the home of Southfields, Wimbledon, Colliers Wood and Merton Park in the district of Merton. It comprises various regions, from residential places with huge supermarkets to places that are pretty young and haven't got more than 150 years of history. On top of that, Merton district can praise to be the home of one of the most popular places in the world – Wimbledon.
Comparing the area of Southfields to other parts of London that are thousands of years old you could say that this district is just a baby that just started walking. When you take a look at Southfields and especially to "The Grid" which is its main residential area, you may find it hard to believe that 150 years ago the ground were the houses and pubs sit now, were just empty fields. Southfields is a suburban district divided between SW18 and SW19 districts.
The main point of development for this area, when the grounds turned from fields to beautiful Edwardian terraced houses, was in 1889 when the District & London & South Western Railway from Wimbledon to Putney Bridge opened in June. The real development came but only 100 years later, at the same time with many other London regions, when a great number of people settled in Southfields especially for the good transport links and the fact that Wimbledon was really close to it.
The feeling you will get when walking through Southfields is of a friendly village where friendly people live that always try to please you.
A much more different location from Southfields is Colliers Wood, designed for people with "larger pockets". It is a mainly residential place and home to three beautiful parks that spread all together on an area of 45,000 square meters. One of the strange landscapes in Colliers Wood if provided by the informal Wandle Meadow Nature Park.
Even if almost as old as the neighboring Southfields, the area of Colliers Wood has known a totally different development then the other. One hundred years ago, most of what you see today was covered by woods which have later been cleared for development in 1890. A part of it is still of ancient times and home to ruins and historical buildings, such as Merton Priory which is the only other place, except Westminster Abbey, where a king has been crowned. The event took place in 1437 and the king to be crowned was Henry VI.
A more recent building than the Merton Priory that holds a strange title is Colliers Wood Tower which has been voted the ugliest building in London in 2006. You could say that the tower has gone under plastic surgery since then as it has been somehow redecorated in order to change its appearance in 2011.
The name Wimbledon clearly rings a bell to anyone so you might feel like a description is not necessary. But you might know Wimbledon for its tennis courts and might heard a lot about them and the great events played there, but I`m sure not many people know that much about the area of Wimbledon and about its centuries long history.
The tale of Wimbledon starts even since the Iron Age when it was just a small fort on the top of a hill baring the name of Wimbedounyng, as Kind Edgar the Peaceful referred to in 967. Records show that around the 11th century Wimbledon was part of the manor of Mortlake. Since then right up to the 16th century it changed several leaders including Thomas Cromwell or Cardinal Reginald Polse. In the 17th century it was sold to George Digby which was the first to bring significant improvements to it while trying to develop Wimbledon into a fashionable place in accordance to the latest fashions. Grottos and fountains were added to the place to give it a sense of unicity. After George Digby's death the manor re-entered into periods of different leaderships until it burnt down in 1780. Twenty years later it was replaced with Wimbledon Park House. The new manor comprised Wimbledon Common and enclosed park. The area of Wimbledon soon started to develop attracting people from all over England. The development continued through the entre 20th century.
Wimbledon's popularity increased great since the initial Wimbledon Tennis Championship was held in 1877 at the All England lawn tennis and Croquet Club in Wimbledon which was also the sponsor of this competition which was initially created in order to for the Club to attract extra funds so that they could fix a damaged roller at the private club but by no one's choice, the competition grew to become the most highly regarded tournament in the entire world.
In the early days of Wimbledon tennis history women weren't allowed to play this game. So in 1884 the only event held was the Mens Singles. The first to win was Spencer Gore which will always be remembered as the very first Wimbledon Tennis Champion. The last game was performed in front of 200 viewers. The people that attended paid one shilling each to view the final match first Singles Mens Championships in Wimbledon history.
The very first Wimbledon Championships was performed at the exclusive club on Worple Road. In 1922 the club was moved to Church Road and gone through various improvements since.
The winner with the biggest number of titles at Wimbledon and the Wimbledon Tennis Champion counting 9 of them is Martina Navratilova. The same title is held by Wiliam Renshaw and Pete Sampras with a number of 7 titles each.
As you may have already guessed, Wimbledon will host the tennis competition for the 2012 Olympic Games.
The tennis events will take place on the 4th and 5th of August.
One of the most quiet areas of London can be found in Merton Park, close to the popular and more crowded Wimbledon. Until the 20th century the area was mainly rural, a farmland owned by John Innes. The development of Merton Park was mostly based on the rapid increase in fame of Wimbledon which encouraged people to move here.
A significant aspect of the Merton Park Ward is that it frequently returns Independents to Merton Council on which the three Merton Park councilors presently hold the balance of power.
Our fast and reliable airport transfer to Heathrow Airport and taxi service is available 24 hours a day, 365 days a year to take you to your destination. We guarantee to make all your bookings as quick and easy as possible with instant confirmations, regardless if booked online, on the phone or by email. Your safety and comfort is our main concern so all our cars are PCO licensed.
We have a wide range of vehicle size to choose from to suit your specific needs: saloon cars, estate, MPV-s and 8-Seaters for larger groups.
Our courteous and knowledgeable drivers, all PCO and CRB checked, will await your arrival at the Arrivals with a sign bearing your name. If your flight is delayed, the driver will be aware of this before he sets off to collect you.
If you're interested in getting a good price for your transfer, then find out that with us you can get 10 % discount for each journey if you create an account on our website (link ul catre pagina de account). When you are a regular traveler this is a great solution to reduce costs.
If you're traveling with children you must know that we offer child seats on request, in order to ensure the safety of your child. We offer you 24 h booking service and customer service with trained operators, so don't hesitate to contact us. If you are interested on payment type we offer you 3 payment methods – Cash to the driver, bank transfer or Credit card payment using our merchant provider: Streamline or Google Checkout.
Image: Wikipedia.