Transfer from Fulham (SW6) to Gatwick Airport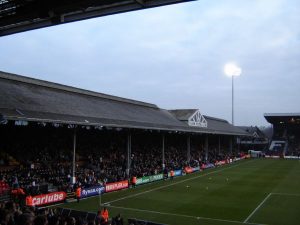 Throughout the years the area of Fulham has been a place of many transformations of all kinds while today the district is considered one of the prime London areas. In recent years the area has become famous because of the two important Premier League football clubs that reside in the area on two wonderful stadiums, Chelsea(Stamford Bridge) and Fulham(Craven Cottage). The stadiums yearly attract thousands of English and also foreign residents.
Until recent years Fulham has been a working class area but, after being subject to a great number of renovations between WWII and 1980, it became one of the most expensive sections of London, and consequently the United Kingdom. To get a better view on this you could check the average real sale cost of all property sold in September 2007 which was of £639,973.
A few places worth visiting in Fulham are The Harwood Arms(the only pub in London to receive a Michelin Star), Fulham Broadway(home to a great number of bars, cafes and salons), Hurlingham Club(an famous exclusive sports club) and the great number of beautiful parks and open spaces such as Bishop's Park, Fulham Palace Gardens, Hurlingham Park, South Park, Eel Brook Common and Parsons Green. Fulham is considered to be one of the green areas in London.
Transfer from London Gatwick Airport to Fulham(SW6) by Rail:
In order to get from Gatwick to Fulham by rail you must take the National Rail to Victoria Station. From Victoria Station you will be able to acquire other means of transport like a taxi to Fulham. From Victoria Station you can also board in another train to take you to the Hammersmith Station in SW6.
Transfer from London Gatwick Airport to Fulham(SW6) by Car:
The distance between London Heathrow Airport and Fulham is of 36 miles. You can get transfer from Gatwick Airport to Fulham by car via the M25 motorway.
Transfer from London Gatwick Airport to Fulham(SW6) by Taxi Transfer:
A Taxi Transfer from London Gatwick Airport to Fulham with 247 Airport Transfer will cost around 56 GBP for a saloon car. The airport transfer from London Gatwick to Fulham will take approximately 1 hour.
Image: Wikipedia.