Transfer from Fulham (SW6) to Luton Airport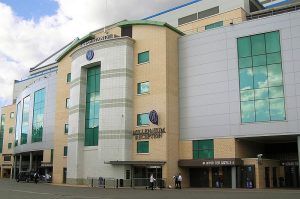 Until recent years Fulham has been a working class area but, after being subject to a great number of renovations between WWII and 1980, it became one of the most expensive sections of London, and consequently the United Kingdom. To get a better view on this you could check the average real sale cost of all property sold in September 2007 which was of £639,973.
Fulham district(SW6) is home of two major Premier League football teams. The first one of them, probably one of the most renown in the world, Champions League winners in 2011 is Chelsea London.
Home to this fantastic football club is Stamford Bridge, a stadium built in 1877, initially used by London Athletics Club until 1905. Starting with the moment Chelsea Football Club was created by Gus Mears the Stamford Bridge Stadium became its home.
The other club in the Fulham district bares the name of the hamlet and plays its home games on Craven Cottage, a stadium built in 1896. Craven Cottage is located next to Bishop's Park on the banks of the River Thames. The name comes from a royal hunting resort with a history going back more than 300 years. When the Fulham staff first came seen the land where Craven Cottage lies today, it was so overgrown that it needed two years to be made appropriate for football to be played on it. A deal was arranged for the owners of the area to perform the work, in exchange for which they would obtain a percentage of the home game revenues.
Transfer from London Luton Airport to Fulham(SW6) by Rail:
In order to get transfer from Luton Airport to Fulham by rail you must take the take the First Capital Connect train service to London's St Pancras International Station or Blackfriars Station. From one of the two stations you will have to use the London Underground tube system or a taxi in order to get to Fulham.
Transfer from London Luton Airport to Fulham(SW6) by Car:
The distance between London Luton Airport and Fulham is of 40 miles. You can get transfer from Luton Airport to Fulham by car via the M1 motorway.
Transfer from London Luton Airport to Fulham(SW6) by Taxi Transfer:
A Taxi Transfer from London Luton Airport to Fulham with 247 Airport Transfer will cost around 52 GBP for a saloon car. The airport transfer from London Luton to Fulham will take approximately 1 hour.
Image: Wikipedia.