Transfer from Tottenham (N17) to Heathrow Airport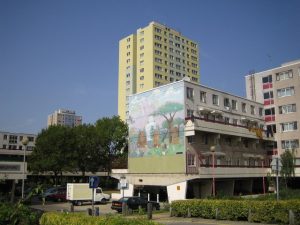 Another fantastic area in London, also home to one of the greatest football teams in the Premier League is Tottenham, N17 district. The area counts more than 1000 years of history, developing close to the ancient Roman road, Ermine Street. First records related to residents point out that in 1086 more than 70 families lived in Tottenham, mostly working class. It remained a district for the working-class for the next hundreds of years until the Tudor period when it grew to become a popular recreation and leisure destination for wealthy Londoners. One of the most renown visitors that Tottenham had throughout its history is Henry VIII who hunted in Tottenham Wood. During his stay there he resided in Bruce Castle. Tottenham also became popular for the large Quaker population and its schools but continued to be an upper middle class area until the 1870s.
Some notable landmarks in Tottenham include All Hallows Church(the oldest surviving building in the district dating back to Norman times), Bruce Castle(a Grade 1 listed building constructed in the 16th century), High Cross(it was built between 1600 and 1609 on the site of an earlier Christian Cross).
Another building that dominates the area is St.Ignatius' Church and College, constructed between 1894 and 1902. It has two towers in the style of a 12th century German building.
Transfer from London Heathrow Airport to Tottenham (N17) by Rail:
To get transfer from London Heathrow Airport to Tottenham by train you must first take a 16 minutes journey with the National Rail to Paddington Station. From Paddington Station you can take the tube to Liverpool Street Station on the Circle, Hammersmith & City Line. Once arrived there you should be able to embark in another train that will transfer you to Bruce Station in Tottenham. Other transport options include taking a taxi transfer from Paddington or Liverpool street to Tottenham.
Transfer from London Heathrow Airport to Tottenham (N17) by Car:
A if you want to get from Heathrow Airport to Tottenham by car you must go on the M4 motorway. The distance between Heathrow Airport and Tottenham is of 27 miles.
Transfer from London Heathrow Airport to Tottenham (N17) by Taxi Transfer:
A Taxi Transfer from London Heathrow Airport to Tottenham with 247 Airport Transfer will cost around 43 GBP for a saloon car. The airport transfer from London Heathrow to Tottenham will take approximately 1 hour.
Image source: Wikipedia..