Transfer from Cricklewood (NW2) to Stansted Airport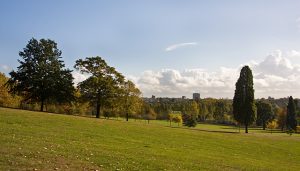 Childs Hill is one of the most noticeable areas in London mostly because of its positioning at an altitude of 259 feet above sea level and also one of the most populated areas in the Cricklewood district. Even if of historical origins Childs Hill is mostly known to become an area of interest starting with the late 19th century. The name of Childs Hill dates back from 1593 and some historical buildings can be still found there like the Castle Inn which dates back to 1751.
The region is characterized by modest terraced houses and the most notable constructions are four blocks of flats which will be impossible for you to miss. One of the blocks has been home to the Metropolitan Police and was built in 1956 while other two provide housing for local residents. The fourth and last one has been built some time later, after the year 1960.
Another important construction in Childs Hill is the public library, as well as Childs Hill park which also contains the Childs Hill Bowls Club,an 18th-century pub,The Castle as well as a great number of retailers and restaurants, soffices, mall businesses, two churches and primary schools.
Transfer from London Stansted Airport to Cricklewood(NW2) by Rail:
There is no direct rail services from Stansted Airport to this area but you can take a train transfer from Stansted to Liverpool Street Station from where you will be able to take any other connection to this area, like a taxi transfer to Cricklewood.
Transfer from London Stansted Airport to Cricklewood(NW2) by Car:
The distance between London Stansted Airport and Cricklewood is of 40 miles. You can get transfer from Stansted Airport to Cricklewood by car via the M11 motorway and A406 road.
Transfer from London Stansted Airport to Cricklewood(NW2) by Taxi Transfer:
A Taxi Transfer from London Stansted Airport to Cricklewood with 247 Airport Transfer will cost around 55 GBP for a saloon car. The airport transfer from London Stansted to Cricklewood will take approximately 1 hour.
Image: Wikipedia.