Transfer from Norwood (SE19) to Stansted Airport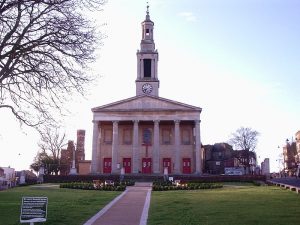 One of the best recreation places in the Norwood district is the Norwood Park. It offers magnificent views over Central London and Dulwich and on the clear days, one can even admire the Alexandra Palace. The park is hilly, so it's great for hiking and walking or just having a picnic. However, because of its height, it doesn't have many features. The playground is one of the best characteristics in the Norwood Park. The playground is suitable for children up to 14 years old and it even has a football pitch. It also features a paddling pool and a special club for carers and youngsters. Moreover, the Norwood Park includes a large variety of plants and trees such as Sycamore, Horse Chestnut and Oak.
Other place that can be visited in Norwood is the Free Public Library. It used to be a venue for events, exhibitions, activities and local meetings and a café, but it was eventually transformed into a library. The building has an entrance loggia, a balcony and it's made of Ham Hill stone, terracotta and red brick.
Transfer from Stansted Airport to Norwood (SE19) by Rail:
So as to get transfer from Stansted Airport to Norwood by rail, you need to take the National Rail Service to London Liverpool St. This journey lasts almost 50 minutes. From Liverpool Street Station, you can take the tube to Bank Station and from here you have to another tube to London Bridge Station. From London Bridge, you can take another train to Norwood Junction. Other transport options include taking a taxi transfer from Liverpool Street Station, Bank Station, London Bridge Station or Stansted Airport to Norwood.
Transfer from Stansted Airport to Norwood (SE19) by Car:
In order to get from Stansted Airport to Norwood by car, you have to take the M11 motorway. The distance between Norwood and Stansted Airport is 46.1 miles.
Transfer from Stansted Airport to Norwood (SE19) by Taxi:
A Taxi Transfer from London Stansted Airport to Norwood with 247 Airport Transfer will take approximately 1 hour and 25 minutes. The Stansted Airport Transfer to Norwood will cost around 66 GBP for a saloon car.
Image:Wikipedia.