Transfer from Leatherhead (KT22) to Heathrow Airport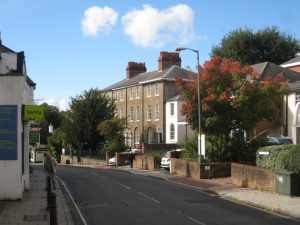 The town of Leatherhead is located in the Surrey County in the Mole Valley district and it's surrounded by Oxshott, Epsom and Chessington. It used to be an Anglo – Saxon settlement and it seems that its first recordings date from AD 880. At the time, it was called Leodridan and around the 11th century it changed the name in Leret. Other recorded titles are Leddrede, Ledreda and Lereda. On the eastern side of the town you can see the antique Roman road called Stane Street. This road connects Chichester with London.
In the 11th century, the first parish church was constructed in Leatherhead. Throughout the years, the church building has been extended and remodelled. The most important restoration was carried out in the Victorian period. In the 13th century, the agricultural economy developed and the first market was opened in the area. From that moment, Leatherhead has developed a traditional annual fair, as well as a weekly market. In 1392, the town was destroyed by a fire, but it was rebuilt afterwards and nowadays it preserves pretty much of that design and architecture.
Transfer from London Heathrow Airport to Leatherhead by Rail:
So as to get transfer from London Heathrow Airport to Leatherhead by rail, you need to take the Heathrow Express Service to Paddington Station. This journey will last around 20 minutes. From Paddington Station, you can take the tube to London Waterloo and from there you will take the National Rail Service to Leatherhead. Other transport options include taking a taxi transfer from Paddington Station, London Waterloo or Heathrow Airport to Leatherhead.
Transfer from London Heathrow Airport to Leatherhead by Car:
In order to get from Heathrow Airport to Leatherhead by car, you have to take the M25 motorway. The distance between Heathrow Airport and Leatherhead is 25.2 miles.
Transfer from London Heathrow Airport to Leatherhead by Taxi:
A Taxi Transfer from London Heathrow Airport to Leatherhead with 247 Airport Transfer will take approximately 35 minutes. The Heathrow Airport Transfer to Leatherhead will cost almost 51 GBP for a saloon car.
Image source:Wikipedia.