Transfer from Woking (GU21-22) to Heathrow Airport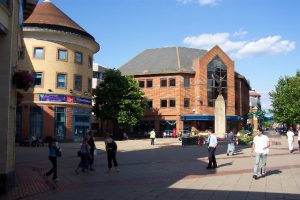 Woking is a beautiful town located in Surrey, England. It is included in the commuter belt of London and the urban area of Greater London. It is believed that Woking dates from the 8th century, when it used to be a monastery. At the time, it was called Wochingas or Wochinges. The modern town was formed near the Basingstoke Canal and the railway station that dates from 1838.
The area known as Woking includes various villages such as Ridgway, Knaphill, Westfield, Horsell, Kingfield, Hook Heath, Pyrford, Mount Hermon, St John's, Barnsbury, Goldsworth Park, Sheerwater and Maybury.
Woking also incorporates various suburbs, one of the most important being Barnsbury Estate. This housing estate features more than 400 households. It was built in 1936 and it incorporates flats, housing and bungalows. There are also a couple of small boutiques and shops included in the development. Barnsbury also comprises a Primary School and the Brookwood Cemetery or the London Necropolis, one of Europe's largest cemeteries and the largest in the UK.
Transfer from London Heathrow Airport to Woking by Rail:
So as to get transfer from London Heathrow Airport to Woking by rail, you need to take the Heathrow Express to Paddington Station. This journey will last almost 16 minutes. From Paddington Station, you can take the tube to London Waterloo and from there you will take the train to Woking. Other transport options include taking a taxi transfer from Paddington Station, London Waterloo or Heathrow Airport to Woking.
Transfer from London Heathrow Airport to Woking by Car:
In order to get from Heathrow Airport to Woking by car, you have to take the M25 motorway. The distance between Heathrow Airport and Woking is 18.4 miles.
Transfer from London Heathrow Airport to Woking by Train:
A Taxi Transfer from London Heathrow Airport to Woking with 247 Airport Transfer will take approximately 35 minutes. The Heathrow Airport Transfer to Woking will cost almost 44 GBP for a saloon car.
Image: Wikipedia.