Taxi Transfer from  Dorking (RH4) to Stansted Airport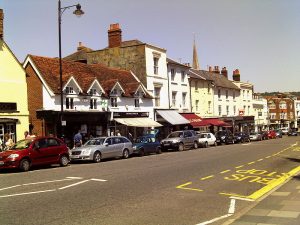 There is a wide array of things to see and do in Dorking. The first venue you have to visit when you go to Dorking is the Dorking Halls that accommodate a swimming pool, a cinema, a leisure centre and a theatre. Moreover, the town is home to the Arts Alive Festival, organised every year in October. An interesting event that takes place in the borough is the professional pantomime show. It was re – introduced in 2006 and had become a popular event among the locals and the visitors. The Zippo's Circus was also held for a couple of years in Dorking.
Moreover, Dorking is known for its CIU affiliated club, its library, its museum and its art and antique boutiques. Not to mention that this lovely town features more than 30 pubs and bars where you can go and spend some quality time with friends and family.
There are numerous sports clubs in Dorking. The most important are the 2 football clubs. Dorking Wanderers Football Club is housed at the Dorking Wanderers Stadium and the Dorking Football Club plays at Meadowbank. The rugby football club is accommodated at Brockham and it's one of the best rugby teams in the region.
Transfer from London Stansted Airport to Dorking by Rail:
So as to get transfer from London Stansted Airport to Dorking by rail, you need to take the National Rail Service to Tottenham Hale Station. This journey will last almost 35 minutes. From Tottenham Hale Station, you can take the tube to Vauxhall Station and from there you will take the train to Dorking. Other transport options include taking a taxi transfer from Tottenham Hale Station, Vauxhall Station or Stansted Airport to Dorking.
Transfer from London Stansted Airport to Dorking by Car:
In order to get from Stansted Airport to Dorking by car, you have to take the M25 motorway. The distance between Stansted Airport and Dorking is 76.6 miles.
Transfer from London Stansted Airport to Dorking by Taxi:
A Taxi Transfer from London Stansted Airport to Dorking with 247 Airport Transfer will take approximately 1 hour and 35 minutes. The Stansted Airport Transfer to Dorking will cost around 103 GBP for a saloon car.
Image source:Wikipedia