Transfer from Woking (GU21-22) to Luton Airport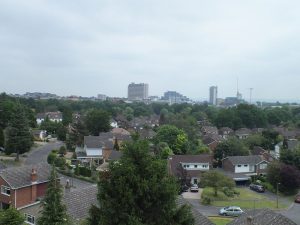 The Export House is one of the most remarkable landmarks in Woking. It also called The BAT Building because its initial tenant was British American Tobacco. It has 18 storeys, it measures 73 metres in height and it was built in 1974. The other 2 tallest buildings in Woking are Centrium measuring 49 metres and New Central measuring 64 metres.
New Central features 2 towers that are surrounded by numerous other small buildings and a Tesco – extra shop. Below the structure, you can see the Plaza with a statue and 3 pillars.
A must see is the Monument Road. It stretches from Addlestone Road to Maybury Road. The name of the road comes from Muslim Indian cemetery that was built for the victims of the Great War (1914 – 1918). There are no more graves in the cemetery, but you can still see the corner towers, the entrance and the walls of the cemetery. The old burial place is located a couple of minutes away from Monument Road. The cemetery's towers, entrance and walls have a unique oriental Indian style.
Transfer from London Luton Airport to Woking by Rail:
So as to get transfer from London Luton Airport to Woking by rail, you need to take the National Rail Service to West Hampstead Station. This journey will last almost 26 minutes. From West Hampstead Station, you can take the tube to London Waterloo and from there you will take another train to Woking. Other transport options include taking a taxi transfer from West Hampstead Station, London Waterloo or Luton Airport to Woking.
Transfer from London Luton Airport to Woking by Car:
In order to get from Luton Airport to Woking by car, you have to take the M25 motorway. The distance between Luton Airport and Woking is 46.6 miles.
Transfer from London Luton Airport to Woking by Taxi:
A Taxi Transfer from London Luton Airport to Woking with 247 Airport Transfer will take approximately 1 hour. The Luton Airport Transfer to Woking will cost almost 75 GBP for a saloon car.
Image: Wikipedia.