Transfer from Camden (NW1) to Stansted Airport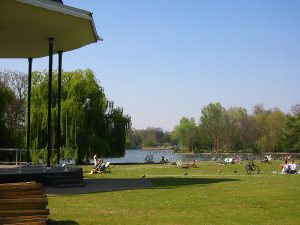 Camden was created to serve as a route for sheeps and cattles but it became one of the most important roads in NW1 district. Beautiful examples of architecture are displayed on Euston, as, when reaching the eastern end of the road you may observe the splendor of King's Cross and St.Pancras railway stations. Nearby lays the British Library while a little bit further to the west you may come face to face with the Euston railway station. South side of the road you have Wellcome Trust, old and new. Raising mighty on a height of 124 meters, on the same Euston Road, a tower stays as a watch post for the rest of the buildings – the Euston Tower.
Much is to be said about the 166 hectare park as it is one of the Royal Parks of London. Describing it from outside in, Regent's Park is surrounded by a circular road called the Outer Circle, while inside it we can find the Inner Circle which somehow guards one of the greatest attractions in Regent's Park – Queen Mary's Gardens. The mark of John Nash's work can be seen almost everywhere you turn your head, as the classy stucco terraces of his houses in the south, east and most of the west side are his creation.
Transfer from London Stansted Airport to Camden by Rail:
In order to get a transfer from London Stansted Airport to Camden by rail, you need to take the National Rail Service to London Tottenham Hale Station in a journey that will last approximately 32 minutes. From London Tottenham Hale Station you will have to take the tube to Euston Station in order to arrive in the Camden area. Other transport options include taking a taxi transfer from Tottenham Hale Station or Stansted Airport to Camden.
Transfer from London Stansted Airport to Camden by Car:
In order to get from Stansted Airport to Camden by car, you have to take the M11 motorway. The distance between Stansted Airport and Camden is of 36.3 miles.
Transfer from London Stansted Airport to Camden by Taxi:
A Taxi Transfer from London Stansted Airport to Camden with 247 Airport Transfer will take approximately 1 hour and 30 minutes. The Stansted Airport transfer to Camden will cost approximately 55 GBP for a saloon car.
Image source: Wikipedia.