Transfer from Hanwell (W7) to Stansted Airport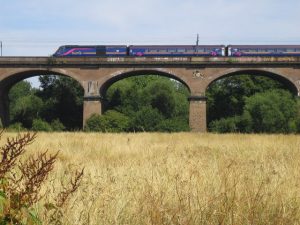 If you're interested in structures and architecture, then you might want to pay a visit to the Wharncliffe Viaduct. The viaduct is made from brick and it features the Great Western Main railway. The line connects Southall with Hanwell. The viaduct dates from the early 19th century. It measures 900 feet in length and 55 feet in width. The Wharncliffe Viaduct has a Georgian design and includes 8 semi – elliptical arches. The structure was widened in 1877, when a couple of extra arches and piers were added to the construction. The central pier has a coat of arms carving.
Another place that you can see is the Hanwell Flight of Locks. This structure is an ancient monument and at the top it features the Three Bridges, whose design was signed by Isambard Brunel. These grounds used to house a windmill and a watermill. For this reason, the name of the road was Watermill Lane. The mills no longer exist, but people can still see the Flight of Locks.
Transfer from Stansted Airport to Hanwell (W7) by Rail:
So as to get transfer from Stansted Airport to Hanwell by rail, you need to take the National Rail Service to London Liverpool St. in a journey that lasts almost 50 minutes. From Liverpool Street Station, you can take the tube to Paddington Station and then another train to Hanwell. Other transport options include taking a taxi transfer from Liverpool Street Station, Paddington Station or Stansted Airport to Hanwell.
Transfer from Stansted Airport to Hanwell (W7) by Car:
In order to get from Stansted Airport to Hanwell by car, you have to take the M11 motorway. The distance between Stansted Airport and Hanwell is 47.1 miles.
Transfer from Stansted Airport to Hanwell (W7) by Taxi:
A Taxi Transfer from London Stansted Airport to Hanwell with 247 Airport Transfer will take approximately 1 hour and 20 minutes. The Stansted Airport transfer to Hanwell will cost around 58 GBP for a saloon car.
Image: Wikipedia