Transfer from Tooting (SW17) to Stansted Airport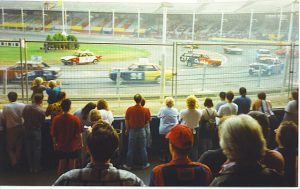 The Tooting district houses the Wimbledon Stadium, known for its greyhound racing tracks. The stadium also hosts various other racing events such as stock car and speedway races. The Wimbledon Stadium is UK's most renowned greyhound racing stadium and it hosts every year the English Greyhound Derby, a prestigious race that was established in 1927.
The Wimbledon Stadium features numerous facilities such as a restaurant, catering facilities, a few bars and a grandstand seating that can accommodate 8,000 persons. At the same time, the stadium has a large car park. The owner of the stadium is Greyhound Racing Association. The first race at the Wimbledon Stadium was organised in 1928, on 19 May. Part of the stadium was damaged during the World War II, but it was renovated right after the war was finished. The Wimbledon Stadium hosts 4 important greyhound events including The Oaks in December, The St Leger in October, The Puppy Derby in August and the already mentioned English Greyhound Derby in May.
Transfer from Stansted Airport to Tooting (SW17) by Rail:
So as to get transfer from Stansted Airport to Tooting by rail, you need to take the National Rail Service to London Liverpool St in a journey that lasts almost 46 minutes. From Liverpool Street Station, you can take another tube to Bank Station and then another tube to Tooting Broadway Station. Other transport options include taking a taxi transfer from Liverpool Street Station, Bank Station or Stansted Airport to Tooting.
Transfer from Stansted Airport to Tooting (SW17) by Car:
In order to get from Stansted Airport to Tooting by car, you have to take the M11 motorway. The distance between Stansted Airport and Tooting is 45.4 miles.
Transfer from Stansted Airport to Tooting (SW17) by Taxi:
A Taxi Transfer from London Stansted Airport to Tooting with 247 Airport Transfer will take approximately 1 hour and 30 minutes. The Stansted Airport transfer to Tooting will cost almost 68 GBP for a saloon car.
Image source:Wikipedia