Need a Stansted Transfer from Heathrow, Gatwick, Luton, and City Airports?
There are many people travelling from Stansted Airport to London mainly, to other important cities in the United Kingdom or to the country's ports. These are the most usual transports. However, there are also persons requesting journeys to the airport. Moreover, those who travel a lot or who have to catch different flights, ask for transfers from airport to airport. So, there is nothing uncommon to see a client booking a  Stansted taxi from Heathrow Airport, for example. Let's see what kind of transfers does 247 Stansted Airport Transfer offer and what are their prices.
Stansted Taxi from Heathrow Airport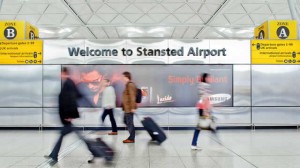 In order to get from Stansted Airport to Heathrow Airport, you can take the coach (National Express) or the train (Stansted Express), but if you really want to travel in style, faster and cheaper, then we suggest you take the taxi. It is the only means of transportation that you can take without having to wait for minutes in the station and it offers both comfort and affordability. A Stansted taxi from Heathrow Airport costs almost £76 for a saloon car and it will take you to your destination in approximately 1 hour and 45 minutes. You will be accompanied by a professional and smartly dressed driver, who does not only have extraordinary driving skills but is also very polite and will help you with your luggage. You will not get this on the train or the coach.
Stansted Taxi from Gatwick Airport
Nowadays, getting from Gatwick Airport to Stansted Airport is a piece of cake. You have three options that you can choose from: coach, train, and taxi. The main disadvantage in what regards the coach is that the departure times are every 2 hours, which means that depending on your arrival hour, you can wait up to 120 minutes for a coach to come. Not that great, is it? When it comes to the train, its drawback is that you have to change trains at London Liverpool Street. This can make you waste precious time.
Why not get rid of these difficulties and go for the best option: the minicab transfer. It will cost you £94 for the smallest car and you will get to the airport in almost 2 hours. With a minicab to Stansted from Gatwick Airport, you can get comfort and save money at the same time. Not to mention that the driver will wait for you in the Arrivals hall with your name written on a board and will take you to the car. So, a taxi transfer offers you convenience and value for money.
Stansted Taxi from Luton Airport
National Express runs coaches between Luton and Stansted Airports. The service is regular, however, you might have to wait quite a lot for the bus to come and take you to the desired destination. On the other hand, if you go for a taxi transfer, things will be a lot easier. All you have to do is book the minicab via the website, email or by phone and at the requested day and time, the driver will wait for you at the airport. You will have a pleasant and stylish journey that will last approximately 1 hour and 20 minutes and for which you will pay £75 for a saloon car. You will get to Luton Airport on time to catch the other flight and you are going to have a stress-free experience.
Stansted Taxi from City Airport
Besides the taxi, there is no other direct transfer service between London City Airport and Stansted Airport. There is only the Stansted Express that only operates between Stansted and Liverpool Street Station. This means that you have to take another train or coach to Liverpool Station. In case you want to eliminate the hassle, book a Stansted taxi that will get you there in almost 1 hour and 15 minutes. The prices for this kind of transfer start from £65.
As you can see, using the professional services of a minicab company is most of the times, easier, more affordable and more advantageous than making use of any other means of transportation.  So, whenever you need a Stansted taxi, just give us a call or send us an email and our friendly operators will help you with your booking.