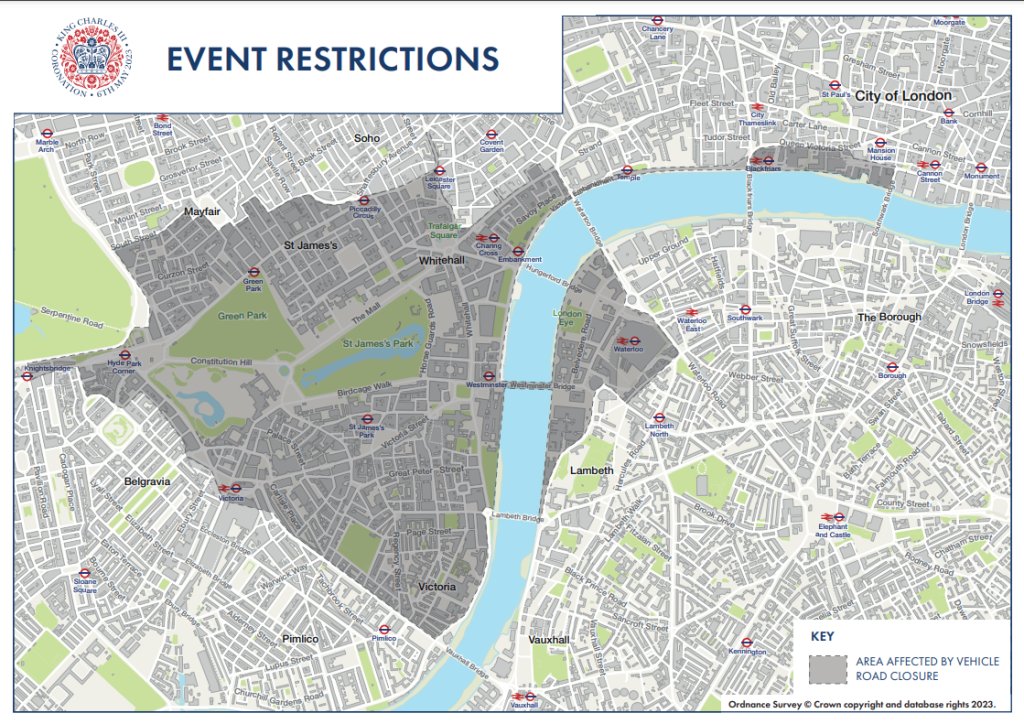 The coronation of King Charles III is a significant event that is taking place on May 6, 2023, in London. With such a major event taking place in the heart of the city, there are several potential disruptions that anyone planning to travel or work in the area should be aware of.
The initial procession, referred to as 'the King's Procession,' is scheduled to commence in the morning. It will follow a route that begins at Buckingham Palace, travels along The Mall, passes through Trafalgar Square and Parliament Square, and culminates at Westminster Abbey around 11 am. While the service is exclusively for VIPs, King Charles III and Queen Camilla will traverse the route in horse-drawn carriages, providing the public with the opportunity to watch. Additionally, other members of the Royal Family will participate, along with 4,000 servicemen and women.
Monday, 8 May 2023, has been declared a public holiday in the United Kingdom to celebrate the Coronation of King Charles.
Where can you watch the Coronation processions?
Organizers are setting up viewing areas along the route for members of the public to catch a glimpse of King Charles III and Queen Camilla. To prepare for the large crowds, stands are being constructed at Buckingham Palace and Horse Guards Parade near Westminster Abbey.
Although viewing areas are not ticketed, they are expected to be incredibly busy, and once they reach capacity, they will be closed. Therefore, it is essential to plan ahead and be prepared to queue in order to secure a good viewing spot.
Travel Disruption
One of the most significant potential disruptions to consider is travel disruption. Many roads and public transport routes are affected by the coronation, and there are widespread road closures and diversions.
According to a report by Euronews, many tube stations in central London will be closed or have restricted access, and some bus routes are diverted. Therefore, it is essential to plan travel ahead of time and consider alternative routes or modes of transport, such as cycling or walking.
It is also worth noting that there may be changes to train schedules, and some stations may have restricted access. Therefore, it is essential to check the latest updates from transport providers before making any travel arrangements.
We expect congestion around the West End and Buckingham Palace. Most road closures will be in Westminster and will not fall within London's business district.
Security Measures
Another potential disruption to consider is security measures. With such a significant event taking place in London, there are high levels of security, including road closures, cordons, and strict security checks.
As reported by Universal Weather, there may also be airspace restrictions around London during the coronation, which could impact private aviation operations. Therefore, anyone planning to fly in or out of London during this period should check for the latest updates and restrictions.
Business Disruption
The coronation of King Charles III is likely to have a significant impact on businesses in London, particularly those located in the immediate vicinity of Westminster Abbey. There may be restrictions on deliveries, and access to some buildings may be limited or restricted.
Therefore, it is essential to plan ahead and consider any potential disruptions that may impact business operations. You may need to make alternative arrangements for deliveries or consider remote working options for staff during this period.
Taxi and private hire vehicles
Taxi and private hire vehicles will be running as usual over the bank holiday weekend. Road closures may affect routes and destinations in central London. 247 Airport Transfer is open during this event and ready to transport you to your destination. Check availability and book now!
In conclusion, the coronation of King Charles III is a highly anticipated event that is taking place on May 6, 2023, in London. It is anticipated that hundreds of thousands of people will travel to London for the three-day occasion. An additional bank holiday is being granted in the UK, and it's anticipated that individuals from various parts of the globe will travel to the city to witness the momentous occasion. A large number of tourists, numbering in the hundreds of thousands, are projected to arrive in London, eager to catch a glimpse of the Royal Family.