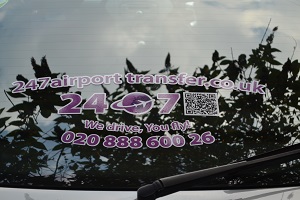 Starting from central London and following the line of A41, to the left into A406 and after that straight in M1, on a distance of 56.5 km, we reach one of the biggest passenger airports in the UK, a place where yearly over 9 million people land or depart. With almost 75 years of history, Luton Airport sits on the last place of the Top 5 passenger airports in England and it is the northern terminal for London. It serves as a base for Monarch Airlines, Ryanair, Thomson Airways and EasyJet.
Situated on a hill-top location, Luton Airport overlooks to London and the Valley of the River Lea, which cuts through the north-east end of the Chiltern Hills.
It was opened on 16 July 1938 by the Secretary of State for Air – Kingsley Wood and has been continuously used since then, even during WWII when it served as a commercial airport but also as home for the Royal Airforce Fighters. Luton Airport was also used as a construction site for the popular Mosquito fighter bomber – "The Wooden Wonder", designed by the Pervical Aircraft Company.
After the war passed Luton Airport continued to be used as the northern terminal for London so, as the airport became more and more important, development was mandatory. This brought to the construction of a new control tower in 1952.
Starting with 1960 affordable holiday packages encouraged British people to become more and more attracted to travel abroad which led to the birth of the huge successful inclusive tour holiday market. One of the most important parts in this mission was played by Luton Airport.
The involvement of the airport in this campaign bounced back in 1962 when, together with the creation of a new charter airline called Euravia, led to an incredible growth of charter traffic on Luton Airport. Around the same time period, Luton became the operating base for some other charter airlines like McAlpine aviation, Autair, Monarch Airlines and Dan-Air. The next decade to come saw Luton going into regression short time after it was named the most profitable airport in England in 1972. The reason for the setback was the bankruptcy of Clarksons Travel Group, the major package holiday operators. The decline continued to early 80's due to the lack of reinvestment and rival airport Stansted. Immediate action was needed to put Luton Airport back to its rightful place and to make it once again the most profitable airport in England. As a result, in the next 15 years work was fully focused on infrastructure development and saw a process of updating, including the construction of the new international terminal, a new control tower with updated air traffic systems, an automated baggage handling facility and runway upgrades.
In 1990, a rebranding strategy led to a change of name from Luton Municipal Airport to London Luton Airport in the purpose to re-emphasise the airport's proximity to the UK capital. The rebranding strategy worked as the scheduled service traffic was growing substantially due largely to Ryanair. It was therefore another setback when in 1991 Ryanair moved most of their business to the newly opened terminal at Stansted Airport. This caused another decline in the number of passengers and put the business back into loss. Seven years later, reinvestments were needed again so, in order to fund an 80 million GBP extension of the airport, the council issued a 30 years concession contract a private partnership consortium.
Recent history saw the construction of a full-length runway and a new terminal at London Luton Airport in 2004, while in 2005 the new departure hall was built.
Today, London Luton Airport counts a number of 10 major airlines operating European and International flights: Adria Airways, Aer Lingus Regional, Blue Air, EasyJet, El Al, Flybe, Monarch Airlines, Ryanair, Thomson Airways, Wizz Air.
Meeting Points at Luton Airport
As you pass the Arrivals Gate our driver will wait for you in front of "Costa Coffee" which is located right on the left of Arrivals. Our London Luton drivers will be easily recognized as they are always elegantly dressed, smiling and waiting for you with a name board. Day and night, they will greet you with friendship and respect, take care of your luggage and answer your questions.
Transport from London Luton Airport to London and from London to London Luton Airport
Transfer to and from London Luton Airport can be done by 4 ways of access: by rail, by road, by  and by bus. Situated on a distance of 32 miles from Central London Luton is easily accessible from all over the country because of its location close to M1 and M25.
Transfer to and from London Luton Airport by road:
–          transfer to and from the M1
London Luton airport is just 5 minutes away from M1 motorway. Exit M1 at Junction 10. The route to the airport is signposted.
–          transfer to and from the M25
There are several number of alternatives if you want to approach London Luton Airport from the West. You can either come via Dunstable or via M40/M25 to join the M1 and then exit via Junction 10. Another transfer way is to exit M25 at Junction 21 for the access to M1.
–          transfer to and from the East and A1
Transfer to London Luton Airport from the East can be done via A505 through Hitchin.
Transfer to and from London Luton Airport by rail:

Transfers to and from London Luton Airport by rail run every ten minutes between 5 am and midnight and the airport is connected to all trains calling at Luton Airport Parkway overnight with an hourly shuttle. Tickets for railway transfers to Luton can be purchased from the train stations. The passengers arriving at Luton Airport Parkway station without a ticket of this type and that wish to use a shuttle bus must pay an extra sum of 1.50 GBP each way in case they get to the station by train.
Rail transfers from London Luton Airport to central London take between 21 to 25 minutes to complete, depending on the company you choose. The most known companies are: East Midlands Trains, The Thameslink Programme and First Capital Connect.
Transfer to and from London Luton Airport by Minicab:
There are some Black Cab companies that operate at London Luton Airport, but prices can get very costly so, you should most likely opt for a mini-cab company, as most people do. 247 Airport Transfer is specialized in Airport Transfers and offers some of the best price ranges in transport from and to all major airports in London. We praise to be one of the fewest minicab companies that tracks flights so, in case you have booked your transfer from Luton Airport and your plane arrives earlier, there is no reason to worry as your minicab will be right there expecting for you.
Our fast and reliable airport transfer and private transfer service is available 24 hours a day, 365 days a year to take you to your destination. We guarantee to make all your bookings as quick and easy as possible with instant confirmations, regardless if booked online, on the phone or by email. Your safety and comfort is our main concern so all our cars are PCO licensed. We have a wide range of vehicle size to choose from to suit your specific needs: saloon cars, estate, MPV-s and 8-Seaters for larger groups.
Our courteous and knowledgeable drivers, all PCO and CRB checked, will happily greet you at the Arrivals with a sign bearing your name. If your flight is delayed, the driver will be aware of this before he sets off to collect you.
If you are interested in getting a good price for your transfer, then find out that with us you can get 10 % discount for each journey if you create an account on our website. When you are a regular traveler this is a great solution to reduce costs.
If you are traveling with children, we can ensure you their safety with our option that entitles you to choose infant, child or booster seats. We offer you a 24 hours booking and customer service, done by trained operators, so do not hesitate to contact us. If you are interested in our payment methods, you will be pleased to know that there are three main possibililies: cash to the driver, bank transfer or credit card.
Prices for transfers with our company from London Luton Airport start from only 38 GBP for a saloon car.
Transfer to and from London Luton Airport by bus:
Transfer by bus from London Luton Airport can be easily done as the airport has great access to key towns and cities in Britain.
National Express services depart from bays 4, 5 & 6 to destinations across the UK. Direct services from London Luton Airport include:
Service 707 to Northampton, 7 times a day;
Service 737 to High Wycombe and Oxford, 8 times a day;
Service 767 to Leicester and Nottingham, 9 times a day;
Service 777 to Coventry, Birmingham and Wolverhampton, up to 11 times a day;
Service 787 to Cambridge, 10 times a day.
National Express also operates services from London Luton Airport to/from:
Milton Keynes, 29 times a day;
Stansted Airport, 27 times a day;
Heathrow Airport, 20 times a day;
Gatwick Airport, 10 times a day.
Other Important Airport Transfer Information:
* Get Fares for London Airport Transfer Here: London Airport Transfer

* Find Out More Information About Transfer from Heathrow to Gatwick: Heathrow Gatwick transfer

* Find Out More Information About transfers from Heathrow to Gatwick: Heathrow Gatwick Transfer
* Find Out More Information About transfers from Heathrow to Stansted and Luton: Heathrow Transfer Stansted Luton
* Prices for  transfers from Gatwick to City Airport here: Gatwick to City Airport Transfers  and Gatwick to Luton Transfers
* We also offer very affordable prices for Heathrow to City Airport Transfers and Gatwick to Stansted Airport  Transfers