Transfer from Luton Airport to Swansea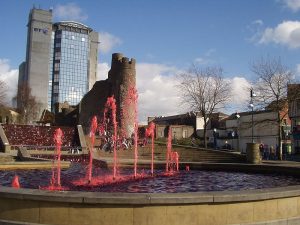 Swansea is placed in a special and attractive location on the border of a 5-mile golden sand shore. The Town provides stunning recreational areas and landscapes, alluring cultural and sporting services as well as outstanding shopping retailers. Swansea is a great place for entertainment and vibrant nightlife, with beautiful cafes, pubs and restaurants in elegant renovated complexes!
A great part of Swansea city center was ruined by bombs during WWII. Nevertheless, there still are a great number of historic buildings that made it out of the massive destruction, and these have meticulously been reconditioned in current times. Several of the finest illustrations of Georgian and Victorian buildings can be observed on Wind Street. Salubrious Passage is practically entirely Georgian however the accolade for most ancient structures in that region goes to Swansea Castle and the Cross Keys that are correspondingly artifacts of the 13th and 14th centuries.
Inside the town, Alexandra Road presents various great illustrations of baroque revival Edwardian designs, with the Glynn Vivian Art Gallery performing as the central interest. British tourists might instantly identify several of Swansea's ancient pavements as they were displayed in the famous TV series Doctor Who.
Transfer from London Luton Airport to Swansea by Coach:
National Express operates regular coach services from London. All coaches will stop at Swansea's main Coach Station. A transfer from London Luton Airport to Swansea by coach takes around 6 hours and 15 minutes with National Express. The fares for Luton to Swansea transfers start from 56,50 GBP.
Transfer from London Luton Airport to Swansea by Rail:
First Great Western Trains provide a quite regular express service from London Paddington Station to Swansea Station. You can get from Luton to Paddington Station by taxi transfer in approximately 1 hour.
Transfer from London Luton Airport to Swansea by Car:
The M4 motorway connects the Swansea to Cardiff and London, with links to the M6, M5, M32, M42 and M50. The distance between Swansea and London is of 202 miles.
Transfer from London Luton Airport to Swansea by Taxi Transfer:
A Taxi Transfer from London Luton Airport to Swansea with 247 Airport Transfer will cost around 257 GBP for a saloon car. The airport transfer from London Luton to Swansea will take approximately 3 hours and 30 minutes.
Image Wikipedia.