Transfer from Heathrow Airport to Guildford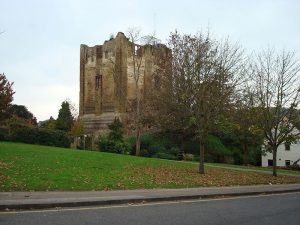 One of the most beautiful places to go to in England, Guildford, is one of the many areas that have preserved their calm Georgian aspect in the course of history. Although the frontages are generally designed in a Georgian fashion, numerous buildings disguise more ancient constructions behind. The greatest of them is the Guildhall that has a 17th century facade included in a building created in a Tudorian style. Additional structures on the High Street of Guildhall that will certainly catch your eye are The Royal Grammar School, Guildford House and the Abbot's Hospital. Close to the marvelous High Street we enter another realm, the one of Guildford Castle's ruins, located in stunning designed gardens. But not even their beauty can be compared to the imposing cathedral on Stag Hill, which is probably the most amazing structure in the city.
On the same area with the cathedral, also on Stag Hill, you will also find a part of The University of Surrey which is divided on two sites. The other one is in the north-west of the Guildhall. Silent in its stream, but certainly eye catching is the beautiful River Wey, which flows through the heart of Guildhall. In the past it used to be a commercial route with locks developed circa 1653. These days it is simply utilized by pleasure craft.
Transfer from London Heathrow Airport to Guildford by Coach:
National Express coaches run to Guildford almost from every place in the country. A transfer from Heathrow Airport with the National Express Coach will take about 3 hours, while the fares start from 15.70 GBP. Keep in mind that the coaches serve a stop known as Guildford Park Barn, which is not inside the town, but really close to it. From there you will have to take a local bus or taxi to transfer you into Guildford.
Transfer from London Heathrow Airport to Guildford by Rail:
There aren't any direct rail services from London Heathrow to Guildford therefore you will have to take the train from London Waterloo station and get a service which first stop after Woking is Guildford. The time of the journey will be of about 35 minutes.
Transfer from London Heathrow Airport to Guildford by Car:
London Heathrow Airport is located at a 23 miles distance from Guildford. You can drive down the M25 motorway and the A3 trunk road to get to get to the city.
Transfer from London Heathrow Airport to Guildford by Taxi Transfer:
A Taxi Transfer from London Heathrow Airport to Guildford with 247 Airport Transfer will cost around 50 GBP for a saloon car. The airport transfer from London Heathrow to Guildford will take approximately 40 minutes.
Image Wikipedia.