Transfer from Gatwick Airport to Guildford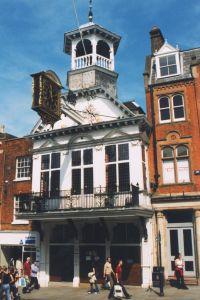 The ancient town of Guildford was a place of many palaces and a glorious castles, during medieval times. The imposing buildings that could have once be found here have vanished and almost nothing of the castle can be seen. These days Guildford is a flourishing area with a great number of medieval attractions and its glorious history is displayed through the Georgian aspect of the city that hides even more ancient buildings. Displays on Guildford's historical past can be also viewed at Guildford Museum.
The center of Guildford truly expresses the real beauty of the town as it houses some of its most important buildings, for example Guildhall. Constructed in 1683, the impressive building contains a huge gilded clock. Within the buildings you will find an ancient courtroom and council chamber as well as a great number of items dating from the 15th, 16th and 17th centuries. Today, the Guildhall building is only employed for particular events and yearly Council meetings.
Not far from the South of Guilford you will find another impressing location, known as Loseley Park. A great number of well-known dairy products and cereal goods are created in this place. Loseley House was constructed in the course of the leadership of Elizabeth I. It was established for Sir William More and has stayed in the family since the moment of its construction. These days it is open to visitors and has become one of the most important attractions in Guildhall mostly for its lovely pictures, tapestries and furniture that dates back to the period the residence was constructed.
Transfer from London Gatwick Airport to Guildford by Coach:
National Express coaches travel to Guildford almost from every place in the country. A transfer from Gatwick Airport with the National Express Coach will take about 3 hours and 30 minutes, while the fares start from 17.70 GBP. Keep in mind that the coaches serve a stop known as Guildford Park Barn, which is not inside the town, but really close to it. From there you will have to take a local bus or taxi to transfer you into Guildford.
Transfer from London Gatwick Airport to Guildford by Rail:
There aren't any direct rail services from London Gatwick to Guildford therefore you will have to take the train from London Waterloo station and get a service which first stop after Woking is Guildford. The time of the journey will be of about 35 minutes.
Transfer from London Gatwick Airport to Guildford by Car:
London Gatwick Airport is located at a 34 miles distance from Guildford. You can drive down M23, M25 and A3 roads to get to get to the city.
Transfer from London Gatwick Airport to Guildford by Taxi Transfer:
A Taxi Transfer from London Gatwick Airport to Guildford with 247 Airport Transfer will cost around 60 GBP for a saloon car. The airport transfer from London Gatwick to Guildford will take approximately 50 minutes.
Image Wikipedia.