Transfer from Stratford (E15) to Gatwick Airport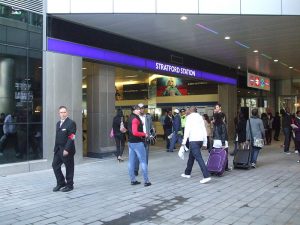 Even if today the area is considered to be one of the major centers in the London plan, the past wasn't doesn't say much about this district. Until the 19th century Stratford was mostly unimportant and didn't present much interest, the area being mostly insignificant in comparison to other cities in London. The climb started with the introduction of the railway in 1839 when Stratford became an industrial suburb. 50 years later the district was already the center of administration for the Borough of West Ham. Before that, Stratford belonged to the West Ham parish and it was mostly an agrarian settlement. The city developed significantly and with this development appeared the New Stratford, the one you can see today, except for a few buildings and landmarks which talk for the past. You can visit them at any time while taking a break from the London 2012 Olympics. You can choose between going to Martyr's Memorial, "Robert" the tank engine, Church of St.John the Evangelist or Gurney Memorial Drinking Fountain or, if you have the time, you can visit all of them.
Transfer from London Gatwick Airport to Stratford (E15) by Rail:
In order to get a transfer from London Gatwick Airport to Stratford (E15) by rail, you need to take the National Rail Service to London Bridge Station in a journey that will last approximately 29 minutes from where you will have to take the tube to Stratford Station. Other transport options include taking a taxi transfer from London Bridge Station Gatwick Airport to Stratford(E15) .
Transfer from London Gatwick Airport to Stratford (E15) by Car:
In order to get from Gatwick Airport to Stratford by car, you have to take the M25 motorway. The distance between Gatwick Airport and Stratford is of 48.2 miles.
Transfer from London Gatwick Airport to Stratford (E15) by Taxi:
A Taxi Transfer from London Gatwick Airport to Stratford (E15) with 247 Airport Transfer will take approximately 1 hour and 30 minutes. The Gatwick Airport transfer to Stratford (E15) will cost approximately 63 GBP for a saloon car. Digital Marketing Company India
Image source: Wikipedia