Transfer from  Dorking (RH4) to Heathrow Airport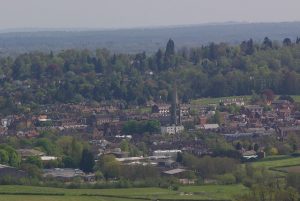 Dorking is a beautiful and historic market town located 21 miles away from London, in the Surrey County. In the beginning, Dorking was a staging post located between the English Channel and Chichester. Dorking dates from the 11th century when it was called Dorchinges and belonged to William the Conqueror. Various Dukes of Norfolk have been inhabitants of Dorking. The medieval period saw Dorking as a prosperous market and agricultural town located at the crossroads of numerous tracks and roads.
The turnpike road was constructed in 1750 and transformed the town into a staging post. On the South Street, there was the Bull's Head whose coachman was William Broad. His portrait can be seen in the Dorking Museum. The Dorking town centre features an inn called the White Horse. It was constructed in the 18th century. The High Street in Dorking used to be home to a large and famous cattle and wheat market. Another poultry market was organised between Butter Hill and South Street.
Transfer from London Heathrow Airport to Dorking by Rail:
So as to get transfer from London Heathrow Airport to Dorking by rail, you need to take the Heathrow Express Service to Paddington Station. This journey will last almost 16 minutes. From Paddington Station, you can take the tube to London Waterloo and from there you will take the train to Dorking. Other transport options include taking a taxi transfer from Paddington Station, London Waterloo or Heathrow Airport to Dorking.
Transfer from London Heathrow Airport to Dorking by Car:
In order to get from Heathrow Airport to Dorking by car, you have to take the M25 motorway. The distance between Heathrow Airport and Dorking is 31 miles.
Transfer from London Heathrow Airport to Dorking by Taxi:
A Taxi Transfer from London Heathrow Airport to Dorking with 247 Airport Transfer will take approximately 50 minutes. The Heathrow Airport Transfer to Dorking will cost almost 56 GBP for a saloon car.
Image source:Wikipedia