Luton International Airport or London Luton Airport is one of the six international airports in London together with Southend, London City, Stansted, Gatwick and Heathrow. It represents the 4th – largest airport serving London. It is located 35.1 miles away from Central London, in Bedfordshire, the Luton Borough. It is also situated 2 miles away from the M1 motorway. Luton Airport welcomes more than 10 million passengers per year and it is a significant base for Ryanair, Thomson Airways, Monarch and EasyJet. It serves destinations in Europe, but it also has routes to Asia and Northern Africa.
Luton Airport features only one runway. Nearby the terminal there are a short term car park, a taxi rank, a drop-off area and a bus station. The airport can accommodate 60 aircrafts. The terminal also features shops, restaurants and lounges. Luton Airport is renowned for its no-frills or low-cost air travel. After you land on the airport, you should know that there is a wide array of Luton Airport Transfer services at your disposal. You can take the taxi, the coach or the train depending on your needs and preferences.
Luton Airport Transfer by Coach: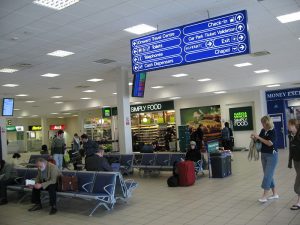 You can get a Luton Airport Transfer by coach by using 3 affordable options. First of all, there is the Terravision, a low-cost service that takes you to Central London. The final stop is Victoria Coach Station, but on the way, it stops at Marble Arch, Baker Street and Brent Cross. The service runs every 20 minutes and a single ticket costs £15.
Secondly, you can use the coach service Green Line 757. It also travels to Victoria Coach Station and it stops at Marble Arch, Hyde Park Corner, Finchley Road Station and Brent Cross. This service is non-stop and it runs every 20 minutes. In the evening, it runs every 30 minutes. The journey from Luton Airport to Central London will last 1 hour and 15 minutes and a single ticket will cost £17.
The third option is the easyBus. It provides a low-cost and high-frequency express bus service and it runs from Luton Airport to Central London. It has stops at London Victoria, Marble Arch / Oxford Street, Baker Street, Finchley Road and Brent Cross. The prices for a one-way ticket start from £2 and they can also be booked online.
Luton Airport Transfer by Train:
The airport also features the Luton Airport train station. In order to get from the airport to the station, you have to take the shuttle bus. This short journey will last almost 10 minutes. From the train station, there are frequent rail services that will take you to Central London. A journey with First Capital Connect will last almost 25 minutes and a journey with East Midlands Trains will take approximately 21 minutes. For example, the First Capital Connect Service is going to take you to stations like Blackfriars, London Bridge, Farringdon or St Pancras International. The service is available day and night and a ticket would cost £13.50.
Luton Airport Transfer by Private Transfer :
As it is the case with all London Airports, Luton Airport also features numerous taxis queuing in the taxi rank. Beforehand taking any minicab or black cab, it would be wise to always ask for the price. This way, you will know for sure how much the journey will cost you and you can decide if you accept or not the service. A Luton Airport Transfer to Central London with a black cab can cost you almost £80. If you will choose to use the services of a minicab company such as 247 Airport Transfer, you will most certainly save a lot of money. A  transfer from London Luton Airport to Central London with a private company will cost around 54 GBP for a saloon car. The journey will take almost 1 hour and 5 minutes.
Other Important Airport Transfer Information:
* Get Fares for London Airport Transfer Here: London Airport Transfer

* Find Out More Information About Transfer from Heathrow to Gatwick: Heathrow Gatwick transfer

* Find Out More Information About transfers from Heathrow to Gatwick: Heathrow Gatwick 
* Find Out More Information About transfers from Heathrow to Stansted and Luton: Heathrow Transfer  Stansted Luton
* Prices for Transfer transfers from Gatwick to City Airport here: Gatwick to City Airport Transfers  and Gatwick to Luton  Transfers
* We also offer very affordable prices for Heathrow to City Airport  Transfers and Gatwick to Stansted Airport  Transfers
Image: Wikipedia