London City Airport Transfer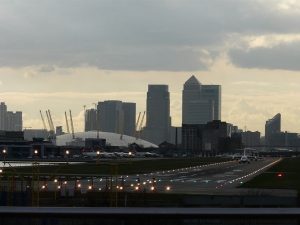 London City Airport is one of the six international airports serving London. It is situated in the Newham London Borough, 6.9 miles away from the City of London. It is also located very close to the Canary Wharf. London City Airport was developed between 1986 and 1987 by Mowlem, an engineering company. Currently, it is owned by the Global Infrastructure Partners and the AIG Financial Products Corp. There is only one runway serving the airport. It measures 1,500 metres in length.
London City Airport features more than 3 million passengers. It is London's 5th busiest airport after Luton, Stansted, Gatwick and Heathrow.  Until 2030, the airport will be developed. It is going to be expanded so as to be able to handle almost 8 million passengers. The western pier will be refurbished and new improved lounges and departure gates will be added. The baggage handling area and the international arrivals are also going to be redeveloped. For the moment, London City Airport features 15 gates, self-service kiosks for Swiss International Air Lines, Luxair, Lufthansa, British Airways and Air France and 17 check-in desks.
Throughout the winter months, the London City Airport becomes extremely busy because of the passengers traveling to sky resorts. They travel with CityJet, Swiss or British Airways to Milan, Geneva or Zurich. In general, London City Airport is known for business travel. There is free Wi-Fi in the London City Airport. The only terminal in the airport features left luggage facility, one bureau de change, taxi and information desks, cafes, restaurants and shops.
London City Airport Transfer by Train:
You can get access to London City Airport from all the London railway stations. All you have to do is use the London underground service. Canning Town is the closest underground station to London City. It is part of the Jubilee line and it can be accessed via the DLR services. The Docklands Light Railway service runs every 15 minutes and it can be used with Travelcards and Oyster cards. The Tube network serves the London City Airport. It features a DLR stop and from there you can take the tube to interchange stations like Bank and Stratford.
London City Airport Transfer by Bus:
The airport is also served by local bus routes. The route 474 stops at Silvertown, East Beckton, North Woolwich and Canning Town. Route 473 has stops at Prince Regent DLR Station, North Woolwich, Silvertown and Stratford. You can use Travelcards and Oyster cards and you will benefit from standard bus fares.
Another London City Airport Transfer option is the coach. You can take the National Express as it serves a large variety of London destinations. It does not go directly to London City Airport, but the coaches stop at stations near the airport, such as Bank and Canary Wharf. You can use the DLR service to access these stations.
London City Airport Transfer by Private Hire:
The most convenient, hassle-free and greatest way to reach the London City Airport are the private hire services. London City Airport is served by more than 500 transfers companies. Most of them are specialised in airport transfers, so you can benefit from experienced drivers, professional services and great rates. The private taxi companies, such as 247 Airport Transfer, will offer you a large selection of comfortable and clean cars to choose from. It all depends on your needs and preferences. You have the regular saloon car, but you can also go for a VIP car or an 8 seater, if you are travelling in a bigger group.
A London City Airport Transfer to Central London will take approximately 45 minutes. Also, the prices for a journey with a private hire company start from 28 GBP for a saloon car.
Other Important Airport Transfer Information:
* Get Fares for London Airport TransfersHere: London Airport Transfer

* Find Out More Information About Transfers from Heathrow to Gatwick: Heathrow Gatwick transfer

* Find Out More Information About transfers from Heathrow to Gatwick: Heathrow Gatwick Transfer
* Find Out More Information About transfers from Heathrow to Stansted and Luton: Heathrow Transfet Stansted Luton
* Prices for transfers from Gatwick to City Airport here: Gatwick to City Airport Transfers  and Gatwick to Luton Transfers
* We also offer very affordable prices for Heathrow to City Airport Transfers and Gatwick to Stansted Airport Transfers
Image: Wikipedia