Transfer from Gatwick Airport to Coventry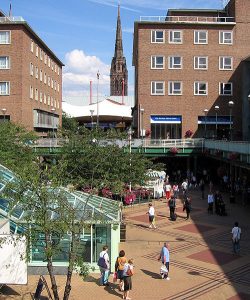 Coventry is a place with a great and fascinating historical heritage starting from the Roman Fort at Baginton to the amazing new Cathedral created by Sir Basil Spence in 1962. A famous character in the city is Lady Godiva who built the Benedictine Priory of St Mary's which afterwards became the first of three cathedrals, just to be destroyed in 1534 on the request of Henry VIII. A second cathedral was later built but its fortunes were almost the same with the initial one as it was totally damaged during the Blitz, in 1940. The ruins of the second cathedral are now connected to the one you are able to admire today. Apart from the cathedral, while in World War II many other area in Coventry experienced serious damage from German bombing and in 1940 a powerful air raid ruined a great part of the city center.  Coventry was reconstructed between 1950 and 1960 in a more modern look, with a pedestrianized shopping center and the new cathedral.
A few buildings did manage to survive the intense bombing and can be admired today under the names of: Ford Hospital, Priory Cottages, Holy Trinity Church,  old Bablake School and Saint John the Baptist Church and 11 Priory Row. A stroll on Spon Street which is a living museum of Coventry's historical past will give you a hint on how the town looked like in the past.
Transport from London Gatwick Airport to Coventry by Coach:
To take a direct coach service from Gatwick Airport to Coventry you will need to use National Express. The company operates 4 daily services to Coventry from London Gatwick Airport. An average Gatwick Airport to Coventry journey time is between 3 hours and 4 hours and 45 minutes, depending on the time of the departure.
Transport from London Gatwick Airport to Coventry by Rail:
Sadly, there are no direct rail services leaving from London Gatwick Airport to Coventry. For you to get to Coventry by train you will first need to take the Gatwick Express to London Victoria station. After that you will need to use the tube to London Euston. From Euston you will be able eventually to take a train to Coventry. The time of the entire journey, which includes waiting periods, is about 2 hours 45 minutes.
Transport from London Gatwick Airport to Coventry by Car:
Getting to Coventry by car is pretty easy. Five main national motorway links which serve the region, including the M6, M42, M40, M69 and the M1, can be used to get to this town. There are also quite a few well-known A roads such as the A45, A46 and A5 that are know to be main arterial links around north Warwickshire and South Warwickshire and also Coventry.
Transport from London Gatwick Airport to Coventry by Taxi Transfer:
A Taxi Transfer from London Gatwick Airport to Coventry with 247 Airport Transfer will cost around 173 GBP for a saloon car. The airport transfer from London Gatwick to Coventry will take approximately 2 hours and 30 minutes.
Image Wikipedia.