Transfer from Luton Airport to Bedford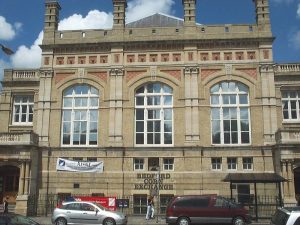 The town of Bedford is one of the most special towns in Britain. Its historical past, beautiful sights, welcoming atmosphere make this place one worth visiting. Bedford is also home to Bedford Castle. However, very little remains of the building, apart from for the castle mound and a a piece of the outer wall. The castle is situated close to the center of Bedford and is encircled by a tiny park and some landscaped gardens. From te top of the mound you can get a panorama over the Great Ouse river, which moves by its feet, on its course inside the center of the town. The Great River Ouse is outlined by amazing parklands and gardens, referred to as 'The Embankment'. The Embankment is a really special area to pass through at any time of the year its unique beauty being provided by old trees, stunning weir, extensive open spaces and ornamental footbridges.
There is a great selection of locations to eat, such as welcoming family village pubs, inns and teashops providing homemade food. The food is as special as the town because it is usually cooked with regionally made ingredients. In some place you will still be able to serve the traditional 'Bedfordshire Clanger', a delicious pie with a tasty filing one one side and a sweet one on the other! A great variety of Italian bars and restaurant and with authentic Indian, Thai, Chinese and Italian dishes there have also found a home in Bedford and serve some great specialties.
Transport from London Luton Airport to Bedford by Coach:
Bedford is home to relatively big bus stations located in the heart of town, but there are only a few services that serve long range journeys. National Express operates 4 daily services to Bedford from London Luton Airport. An average Luton Airport to Bedford journey time with National Express is of 3 hours and 30 minutes. Depending on the service you'll take the fare will vary between 8.60 GBP and 20.40 GBP.
Transport from London Luton Airport to Bedford by Rail:
Bedford is served by London Midland, First Capital Connect and East Midlands Trains  rail services. A trip to/from London St. Pancras to Bedford will take around 40 minutes by East Midlands Trains and just a little over one hour with the First Capital Connect train.
Transport from London Luton Airport to Bedford by Car:
Bedford is located right between the A1 and M1 motorways. Park and Ride services are also offered. The distance between London Luton and Bedford is of 30 miles.
Transport from London Luton Airport to Bedford by Taxi Transfer:
A Taxi Transfer from London Luton Airport to Bedford with 247 Airport Transfer will cost around 81 GBP for a saloon car. The airport transfer from London Luton to Bedford will take approximately 40 minutes.
Image Wikipedia.