Transfer from Stansted Airport to Bedford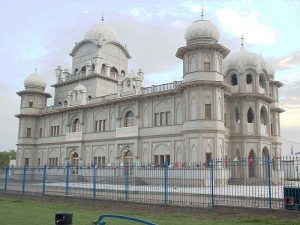 Bedford is a vibrant modern town perfectly located for leisure, history, culture, arts and peaceful strolls on the countryside. The main characteristics of Bedford are its rich historical past and heritage, which is commemorated each year through festivals and events, its beautiful landscapes and the amazing Georgian architecture of the buildings. The town also hold a great place in UK's aviation history.
One special place in Bedford is the Woburn Abbey, established in a wonderful 3,000 acre deer park, with 10 species of deer wandering free. For almost 400 years the abbey has been the residence of the Russell family. Nowadays it is populated by the 15th Duke and his family. The Wborun Abbey is located at the heart of the Woburn Estate, a unique area with a great historical past, a lot of legends and stunning items. Woburn Abbey is considered to be one of the most beautiful houses and Britain, a conclusion that you'll probably reach on yourself while exploring it and the deer park.
Another place that makes Bedford so famous are 'Harpur Trust' schools, which are funded by revenue from the lands of a 16th century Lord Mayor of London which was born in Bedford. He was known by the name of Sir William Harpur. The Square located in the heart of the town center which presents a classic market place also holds his name. But the schools and the square are not the only places that commemorate the 16th century mayor. The Harpur Centre, situated behind the square is an amazing shopping center in the center of a pedestrian surrounding that includes several well-known shops including Argos, Primark, Fraser Hart, WH Smith, Topman, Boots and many more.
Transport from London Stansted Airport to Bedford by Coach:
Bedford is home to relatively big bus stations located in the heart of town, but there are only a few services that serve long range journeys. National Express operates 4 daily services to Bedford from London Stansted Airport. An average Stansted Airport to Bedford journey time is of 2 hours and 30 minutes at a fare of 14.60 GBP.
Transport from London Stansted Airport to Bedford by Rail:
Bedford is served by London Midland, First Capital Connect and East Midlands Trains  rail services. A trip to/from London St. Pancras to Bedford will take around 40 minutes by East Midlands Trains and just a little over one hour with the First Capital Connect train.
Transport from London Stansted Airport to Bedford by Car:
Bedford is located right between the A1 and M1 motorways. Park and Ride services are also offered. The distance between London Stansted and Bedford is of 57 miles.
Transport from London Stansted Airport to Bedford by Taxi Transfer:
A Taxi Transfer from London Stansted Airport to Bedford with 247 Airport Transfer will cost around 81 GBP for a saloon car. The airport transfer from London Stansted to Bedford will take approximately 1 hour and 20 minutes.
Image Wikipedia.