London City Airport is easily accessible from nearby London and the south east, and all over the UK by both private and public transport. 247 Airport Transfer provides cheap London City Airport Transfer to and from all London postcodes, London airports and all Sea ports over the UK. Our highly professional and experienced team will ensure you reach your destination safely, in comfort and on time.
Our drivers are fully licensed, highly experienced professionals and the cars they drive are all licensed by PCO, Mercedes, Audi and Volkswagen in the main. You can be sure that your City Airport Transfer is in safe hands.
247 Airport Transfer offers a wide range of services to suit your City Airport transfer requirements: from standard saloon cars and MPVs accommodating larger groups, to an executive transfer option. From the moment you make an initial inquiry to arrival, following your transfer to or from London City Airport, the process is smooth and efficient. Our drivers are our best asset: smartly presented, polite and courteous, rest assured they know exactly where they are going and what is the best route to take you there.
Book your London City Transfer through us and there will be no hidden charges. At 247 Airport Transfer, everything is included in your original quote. 247 Airport Transfer offers a competitive and transparent pricing policy for City Airport Transfers and a 24-hour online booking service for City Airport Transfers. Therefore, you have the flexibility to book your City Airport Transfer at your convenient time and location.
London City Airport Transfer Prices:
Transfer from Central London to City Airport is £30.00
Transfer from Palmers Green, N13 to London City Airport is £32.00
Transfer from Paddington, W2 to London City Airport is £33.00
Transfer from Westminster, SW1 to London City Airport  is £31.00
Transfer from Heathrow Airport to London City Airport is £55.00
Transfer from Stansted Airport to London City Airport is £55.00
Transfer from Gatwick Airport to London City Airport is £66.00
Where to meet the driver at London City Airport?
Inside London City Airport, our driver will wait for you in front of the "Information Desk", right outside the Arrivals. Our drivers will be easily recognized as they are always elegantly dressed, smiling and waiting for you with a name board. Day and night, they will greet you with friendship and respect, take care of your luggage and answer your questions.
Transport from London City Airport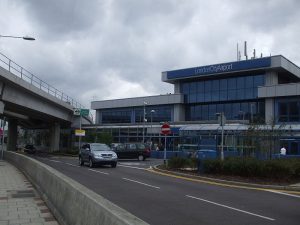 If you like to travel by coach you must know that National Express operates a large number of national coach services into various London destinations. Although the coach service does not stop directly to London City Airport, they do stop at a number of destinations which are close to the airport. These include Canary Wharf and Bank which are only a short journey from the airport, easily accessible by DLR or cab. If you book online you will get discounted tickets. If you are not in hurry to get to your destination the coach can be a great and affordable way of traveling.
The journey to and from the airport can be made also with transfer services. Transfers are a great, hassle-free and convenient way to get to the airport. There are over 500 transfers companies serving London City airport and the surrounding areas, many of which specialize in airport transfer and can offer great rates. If you book online your journey you can obtain special discounts. The prices for the transfer from London City Airport to the closest point in London start from £20. Although the price may seem a little higher you can enjoy the comfort and the safety of a fast journey to your destination only by cab. Transfer companies offer as facilities booster seats for those traveling with early age children. If you are a larger group then the price per person will become cheaper than the public transport.
Another way to get to London City Airport is by train or tube. The city of London is easily accessible from all over the UK, due to its large number of stations. London stations offer services to most major UK destinations, and a large number of intermediate stations.
From the London railway stations, the airport is easily accessible by the London underground. The nearest underground station to the airport is Canning Town. Canning town is on the jubilee line, and DLR services are available between the airport and this station. The prices are low and affordable and you can get great fares when booking online. As a foreigner, if you choose the train, you can also enjoy the window view which is spectacular. The only inconvenience when traveling with train is time. The journey can take longer than expected and if you are in hurry this will not be the best choice for traveling.
London City Airport is easily accessible by road and is located outside of the London Congestion Charge zone. So, if you are visiting London and you want to see different locations car hire is the most indicated solution. Traveling with your family can become expensive when you use different means of transportation. Renting a car is an affordable and relaxing way to travel around London. You can visit whatever you like whenever you want and you will know the price of your transport from the beginning. There are many car hire companies operating on London City Airport. Car hire desks are located next to the Terminal building. The facilities allow for extended opening hours outside the Terminal opening times. The price per day starts from £20 for a saloon car.
Short History – London City Airport
London City Airport is one of the newest and most modern airports in UK. In 1981, a proposal for the construction of London City Airport is made on the basis of providing an airport for the London Docklands Area. In 1987 the first aircraft lands at London City Airport and commercial services begin operating in October, the same year. In 1990 the Airport handled almost 230,000 passengers, but the number declines after the Gulf War. In 1992 an extended runway was opened. In 1995, half a million passengers were traveling through London City Airport.
With continued expansion and growth since then, including a branch of the Docklands Light Railway providing direct rail access to the airport and the introduction of transatlantic flights in 2009, London City Airport has flourished amidst its direct competitors, London Heathrow and London Gatwick. 2012 will see London City Airport celebrating its 31st birthday with plans for further expansion.
Location
London City Airport is a single-runway airport. It principally serves the financial district of London and is located on a former Docklands site, east of the City of London, opposite the London Regatta Centre. It was developed by the engineering company Mowlem in 1986/87. In 2011 London City was the fifth busiest airport in terms of passengers and aircraft movements serving the London area after Heathrow, Gatwick, Stansted and Luton and the 15th busiest in the UK.
Airlines and destinations for London City Airport
London City Airport operates a vast network of flights to Europe, with frequent departures to major cities such as Paris, Amsterdam, Frankfurt, Munich, Geneva and Zurich. Popular city break destinations are also served by the airport, with regular departures to Barcelona, Madrid, Milan and Florence. Other European destinations include Chambery, Nice, Nantes, Brive, Deauville, Antwerp and Basel, as well as Luxembourg, Eindhoven and Rotterdam. London City also operates to Scandinavia, with departures to Copenhagen, Billund and Stockholm. There is also a service to New York's JFK airport, ideal for both business travelers and tourists alike, as well as seasonal departures to Majorca and Ibiza. Regional airports served by London City include Edinburgh, Glasgow, Dundee, Dublin, Jersey and the Isle of Man. There are a number of different airlines operating out of London City Airport, with many catering specifically for the business traveler. Airlines with regular services from London City Airport include British Airways, KLM, Alitalia, Lufthansa, CityJet, Luxair, Sky Work Airlines, Baboo, Swiss International Airlines, VLM, Sun Air of Scandinavia and Aer Arann.
Terminal Information
London City Airport has one main terminal which serves more than 1.5 million passengers to fly to over 25 destinations each year. The terminal was opened in 1986. It is operated by all London City airport airlines and passenger flights. The check-in area is situated on the right side of the terminal building as you enter. For international flights passengers must check-in 3 hours prior to departure, for European flights the check-in must be done 2 hours prior to departure and for domestic flights, in 90 minutes prior to departure. The departure lounge is situated on the first floor of the terminal building. You must know that boarding usually begins around 45 minutes before departure. The Arrivals area is situated in the main terminal concourse.
The terminal has a lot of facilities in order to satisfy all passengers' needs. You can find three bureau de change located near the main entrance, in the departure lounge and in international arrivals. There are also cash dispensers on the main concourse, and one in the baggage reclaim area, if you need them. If you want to serve lunch or enjoy a cup of coffee you can find several restaurants and bars in the airport, serving a range of food. For shopping lovers there are a number of shops in the terminal, including tax and duty free shops that will make you spend your money in no time.
If you have any questions regarding the flights or the terminal facilities, then go to the information desk which is situated on the left-hand side of the terminal building. Lost property office is located in security zone A. The left luggage office is located in security zone A. A shoeshine and repair facility can be found on the ground floor of the main concourse. There is a postal box in the entrance to the terminal and you can find also payphones throughout the terminal. On the airport you can find a number of facilities designed to make the journeys of disabled travelers more comfortable and various business facilities available for those who are interested.
Important Contacts
The following phone numbers may be very useful for anyone flying to and from London City Airport:
Information Desk  +44 (0)207 646 0088;
Metropolitan police +44 (0)207 230 1212;
Conference facilities +44 (0)207 646 0900;
Order currency +44 (0)207 473 1087;
Airport Parking +44 (0)870 737 0778;
Valet Parking +44 (0)870 737 0778;
Lost property +44 (0)207 646 0088;
Left luggage +44 (0)207 646 0088;
Shoeshine service +44 (0)207 474 8814;
Railtrack Timetables and Fares +44 (0)845 748 4950;
Airport Shuttle bus services +44 (0)207 646 0088;
London Underground +44 (0)207 222 1234;
Docklands Light Railway +44 (0)207 222 1234;
London Buses +44 (0)207 222 1234;
Traveline +44 (0)870 608 2608;
National Express +44 (0)870 580 8080.
Other Important Airport Transfer Information:
* Get Fares for London Airport Transfers Here: London Airport  Transfer

* Find Out More Information About Transfer from Heathrow to Gatwick: Heathrow Gatwick transfer

* Find Out More Information About transfers from Heathrow to Gatwick: Heathrow Gatwick
* Find Out More Information About transfers from Heathrow to Stansted and Luton: Heathrow Transfer Stansted Luton
* Prices for transfers from Gatwick to City Airport here: Gatwick to City Airport  Transfers  and Gatwick to Luton Transfers
* We also offer very affordable prices for Heathrow to City Airport Transfers and Gatwick to Stansted Airport  Transfers
Images: Wikipedia